Better Cotton Initiative
2018 Annual Report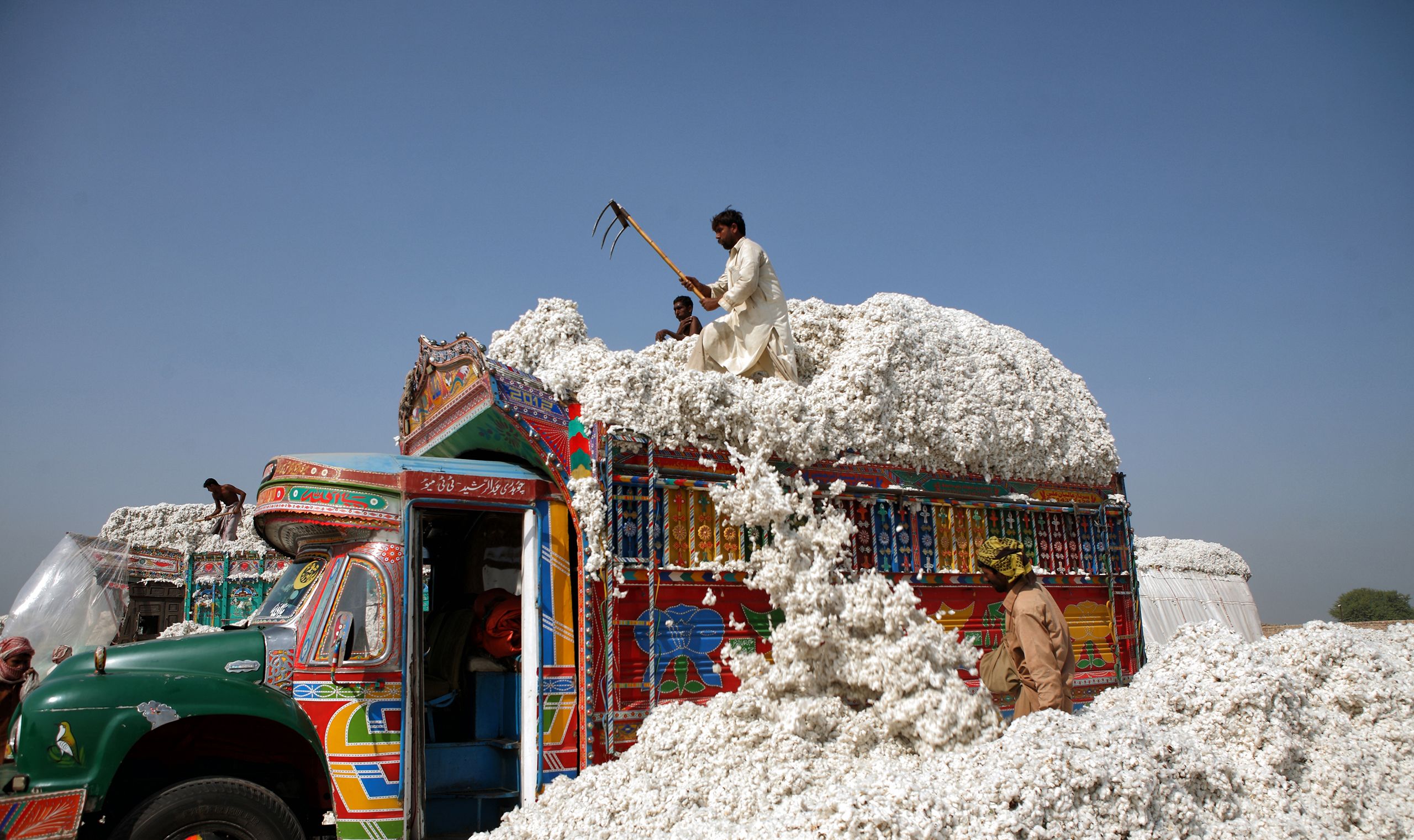 © WWF-UK Asim Hafeez | Workers unload raw cotton from a truck. Punjab, Pakistan.
© WWF-UK Asim Hafeez | Workers unload raw cotton from a truck. Punjab, Pakistan.
The Better Cotton Initiative exists to make global cotton production better for the people who produce it, the environment it grows in and the sector's future.
Message from the CEO
BCI's Retailer and Brand Members passed an important milestone at the end of 2018, sourcing more than one million metric tonnes of Better Cotton. This historic level of uptake is an encouraging indicator of how well BCI is progressing toward our five 2020 targets.
Back in 2012, the BCI Council laid down a formidable challenge to all BCI Members, Partners, stakeholders and staff with the publication of five ambitious targets for 2020. It asked us to demonstrate that multiple stakeholders, working together, can shift a global system so that sustainability becomes the mainstream.
"In 2020, BCI will have come to the end of its current five-year plan. In the BCI 2018 Annual Report, we'd like to share the progress we've collectively made towards achieving these five targets."
Better Cotton and its equivalents will represent 30% of global cotton production.
BCI will reach and train five million cotton farmers on more sustainable practices.
10% of all cotton produced globally will be sourced as Better Cotton.
Nine countries will take direct responsibility for funding and implementing the Better Cotton Standard.
BCI will cover 100% of its core operational costs with earned income.
Now, we need to look ahead, beyond 2020. The BCI Council and Executive Group are putting together the next phase of the strategy and crafting a plan towards 2030, which will be unveiled in November 2019. We are organising a widespread consultation during the first half of 2019, and all BCI stakeholders will have opportunities to contribute.
One of the most exciting aspects of this wide-ranging exploration is the link-up with the United Nation's Sustainable Development Goals (SDGs). The SDGs have been met with an unprecedented consensus of support globally, harnessing the drive and commitment of all stakeholders from both public and private sectors, and from civil society. As such, they provide both a common platform – with a common language – and a unified set of targets to shepherd all our multiple and diverse efforts in the same direction. We are proud to both respect and support this momentum. Mapping BCI activities to the SDGs reveals that the work of our partners, stakeholders and programmes contributes to ten goals directly.
Meanwhile, the day-to-day business of capacity-building and knowledge-sharing continues apace. Along with our on-the-ground partners, in 2018, we reached and provided access to training to 2.2 million cotton farmers in 21 countries. In the short term, we are strengthening our focus on gender equality, water stewardship and land use, and turning our attention to optimal ways of addressing biodiversity in BCI projects. Watch out for more news on these and on our perennial cotton sustainability topics throughout the year.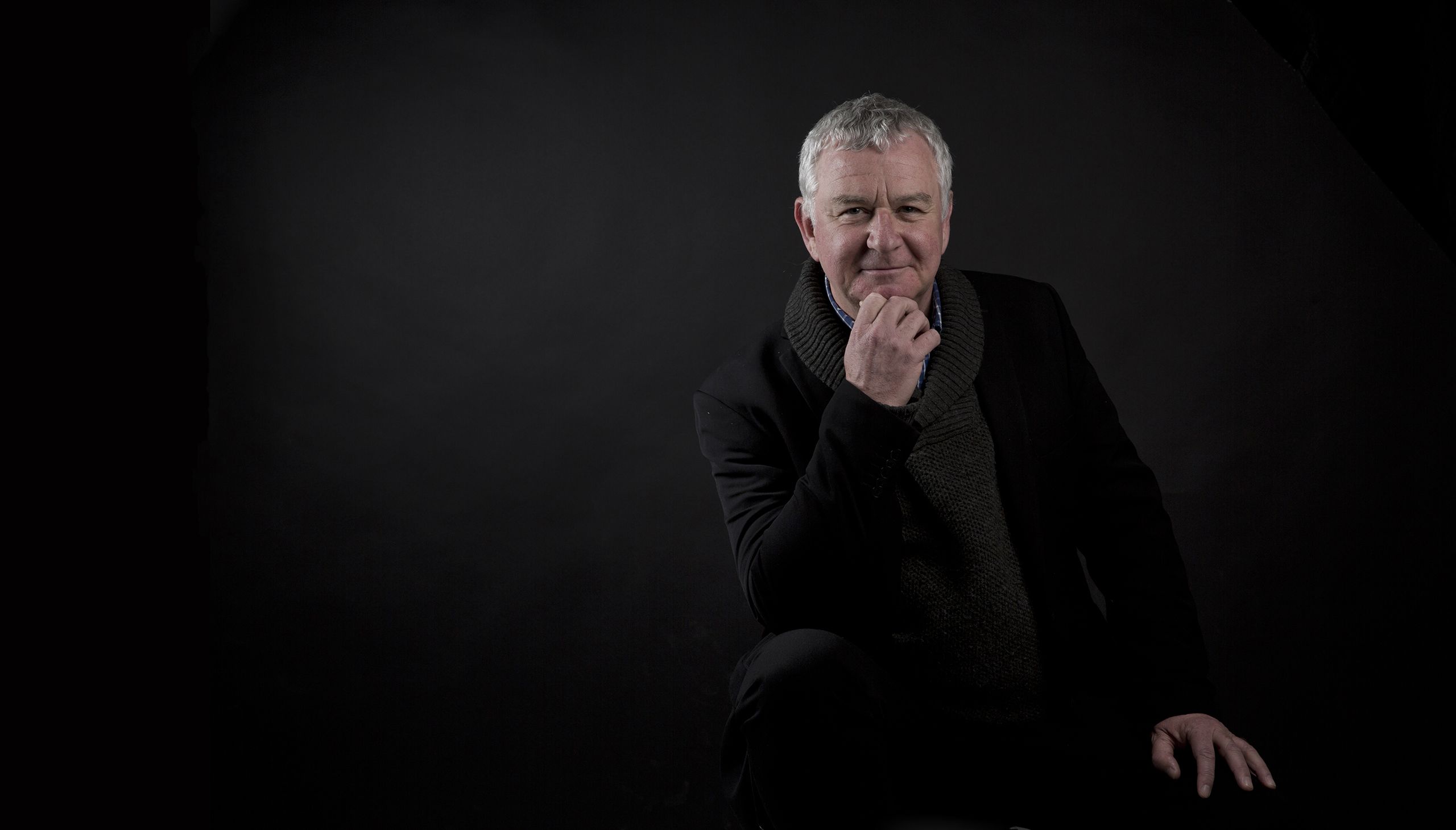 Target One:
By 2020, we aim for Better Cotton and its equivalents to represent 30% of global cotton production.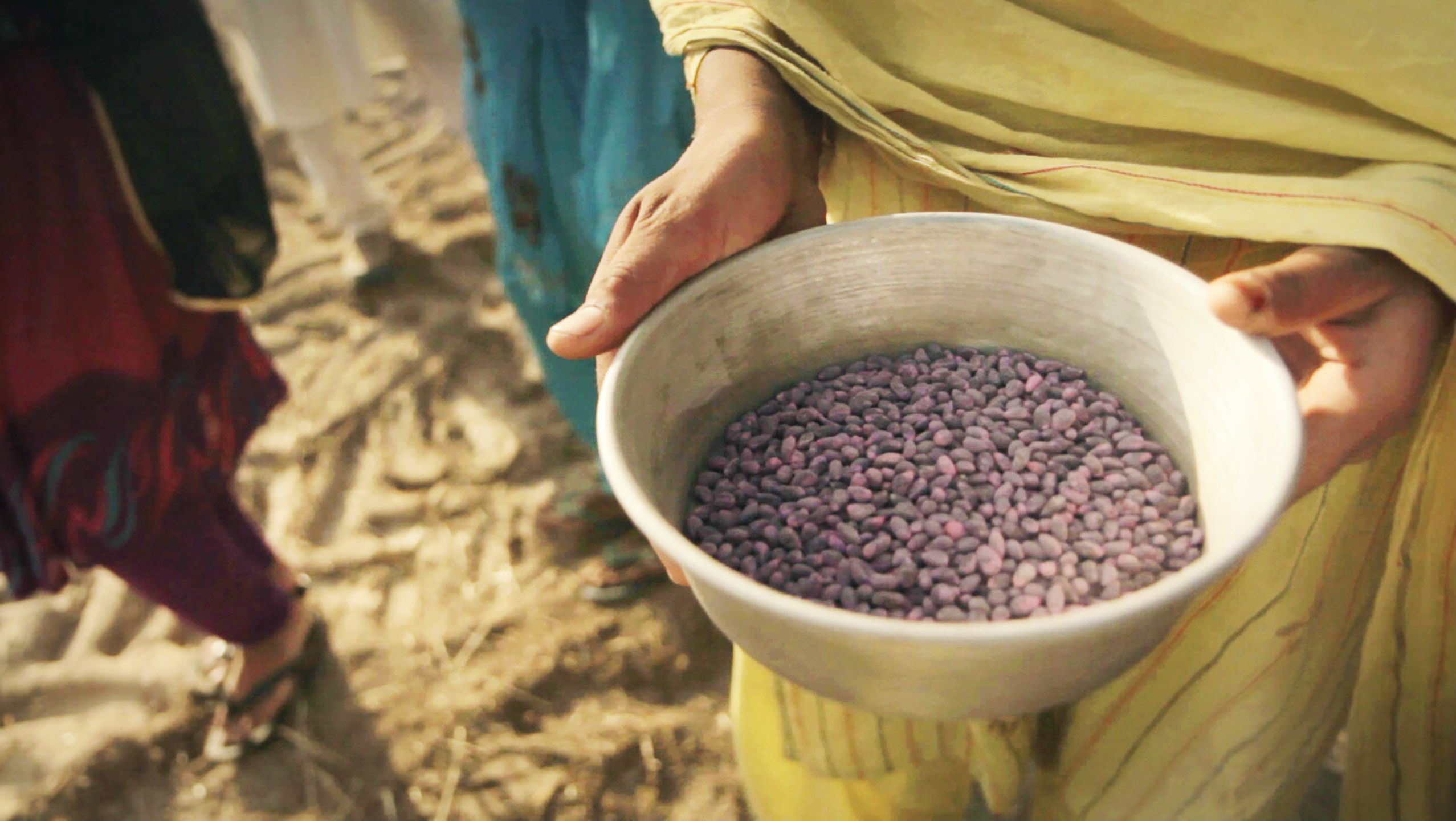 What Do We Want to Achieve
Every day, people across the world use or wear cotton. Producing this versatile, renewable crop supports the livelihoods of more than 250 million people. Yet the future of cotton is vulnerable to challenges including climate change, water scarcity and pest pressures. Today, less than 20% of cotton is grown in a way that actively protects people and the environment. BCI seeks to change this and is striving to transform cotton production from the ground up by helping cotton farmers adopt sustainable agricultural practices and produce Better Cotton – better for farmers, the environment and the sector's future. To achieve meaningful impact, this means reaching large numbers of farmers rapidly and effectively, while working closely with BCI Members and Partners to make Better Cotton a practical reality for the cotton sector. We want Better Cotton to become a mainstream, sustainable commodity, representing 30% of global production (approximately 8.2 million tonnes) by 2020.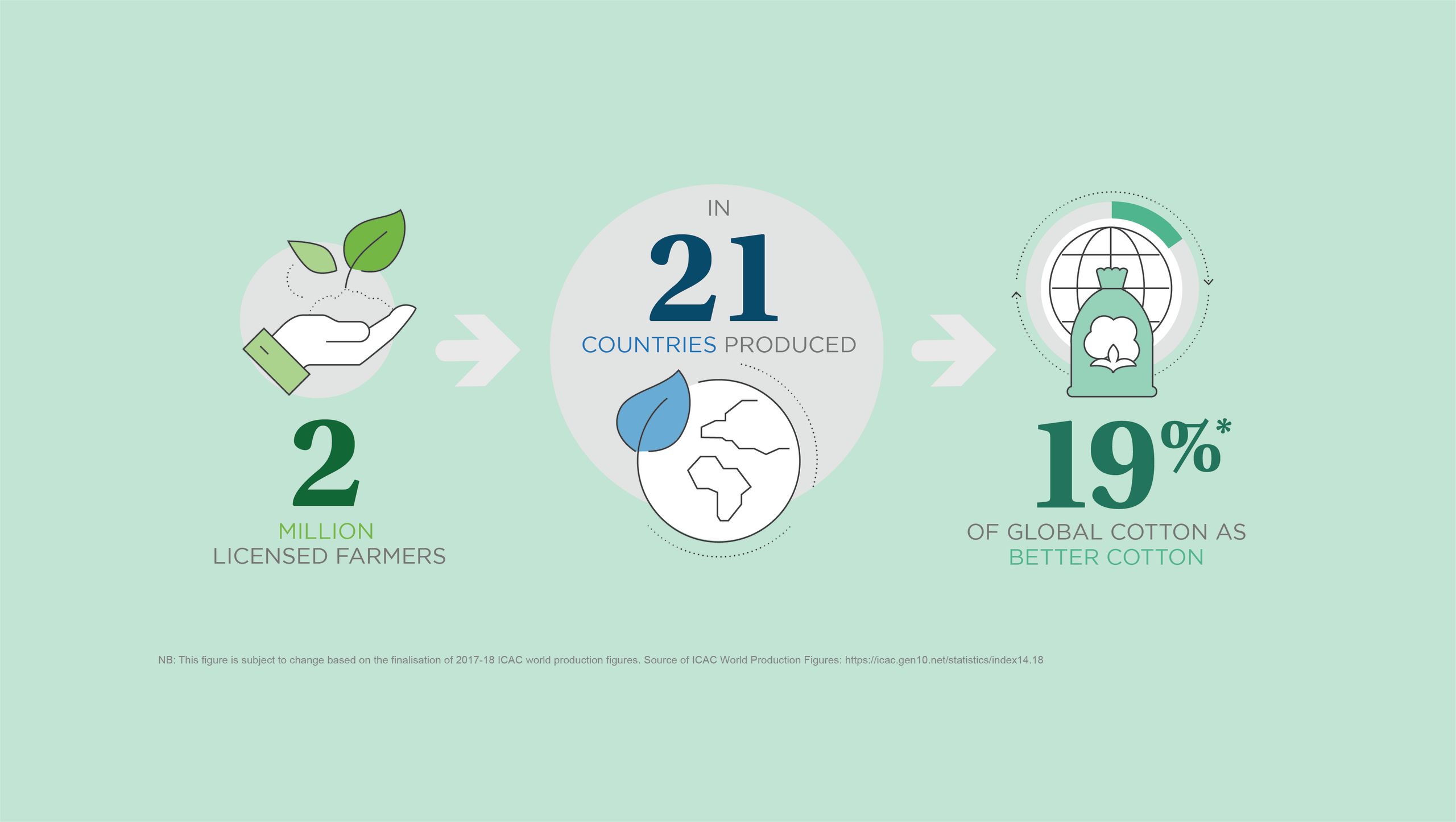 Where Are We Now
Globally, production of Better Cotton increased by 50% compared to the 2016-17 cotton season. Production of Better Cotton increased in almost all BCI Programme countries – nearly or at least doubling in India, Pakistan, South Africa and the USA. In India, for example, Better Cotton production rose by more than 75% from 325,000 tonnes in the 2016-17 cotton season to 572,000 tonnes in the 2017-18 cotton season. In total, 2 million licensed BCI Farmers produced 5.1 million metric tonnes of Better Cotton (on 5.3 million hectares), which accounts for 19% of global cotton production.
"The exponential increase in Better Cotton production in India shows great progress. In the 2017-18 cotton season, India was the largest cotton producing country worldwide, with almost 9 million smallholder cotton farmers."

Volumes of Better Cotton Grown
2017-18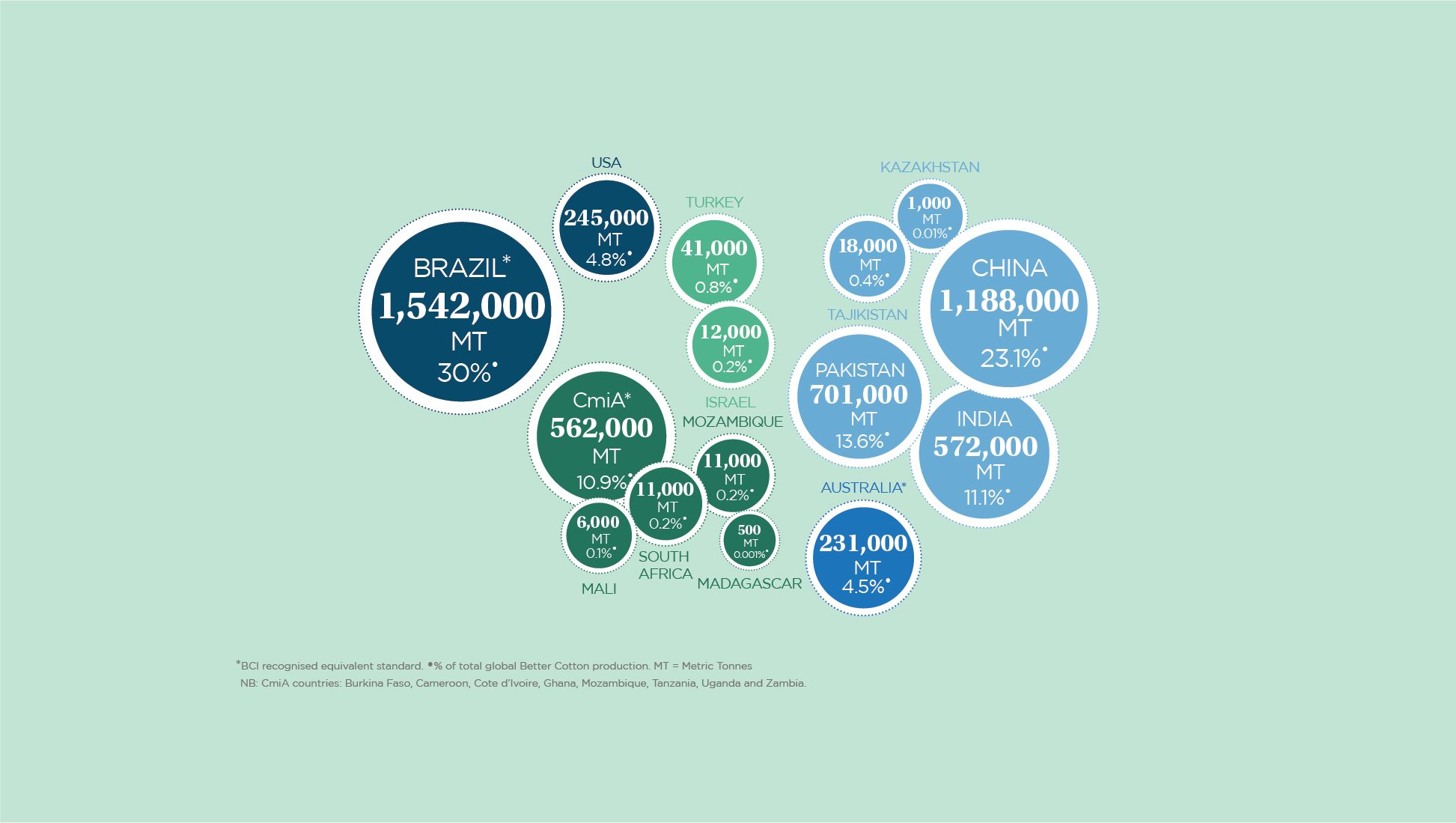 Recognised Equivalent Standards
We continued to work with recognised equivalent standards in Australia (myBMP), Brazil (ABR) and multiple African countries (CmiA and SCS) to make progress towards our goal of mainstreaming Better Cotton by 2020. Farmers working with BCI's recognised equivalent standards produced approximately 2.3 million tonnes of Better Cotton in the 2017-18 cotton season.
What do we mean by equivalent standards?
By comparing (or benchmarking) other sustainable cotton standards rigorously with the Better Cotton Standard, BCI has recognised three other standards as equivalent to our own. Farmers growing cotton in line with the following standards can sell their cotton as Better Cotton: myBMP in Australia (managed by Cotton Australia), ABR in Brazil (managed by ABRAPA) and CmiA or SCS in multiple African countries (managed by Aid by Trade Foundation). By collaborating to create an established, widespread understanding of good practice in growing more sustainable cotton, we and our successfully benchmarked partners are moving more effectively towards promoting sustainability in the cotton sector.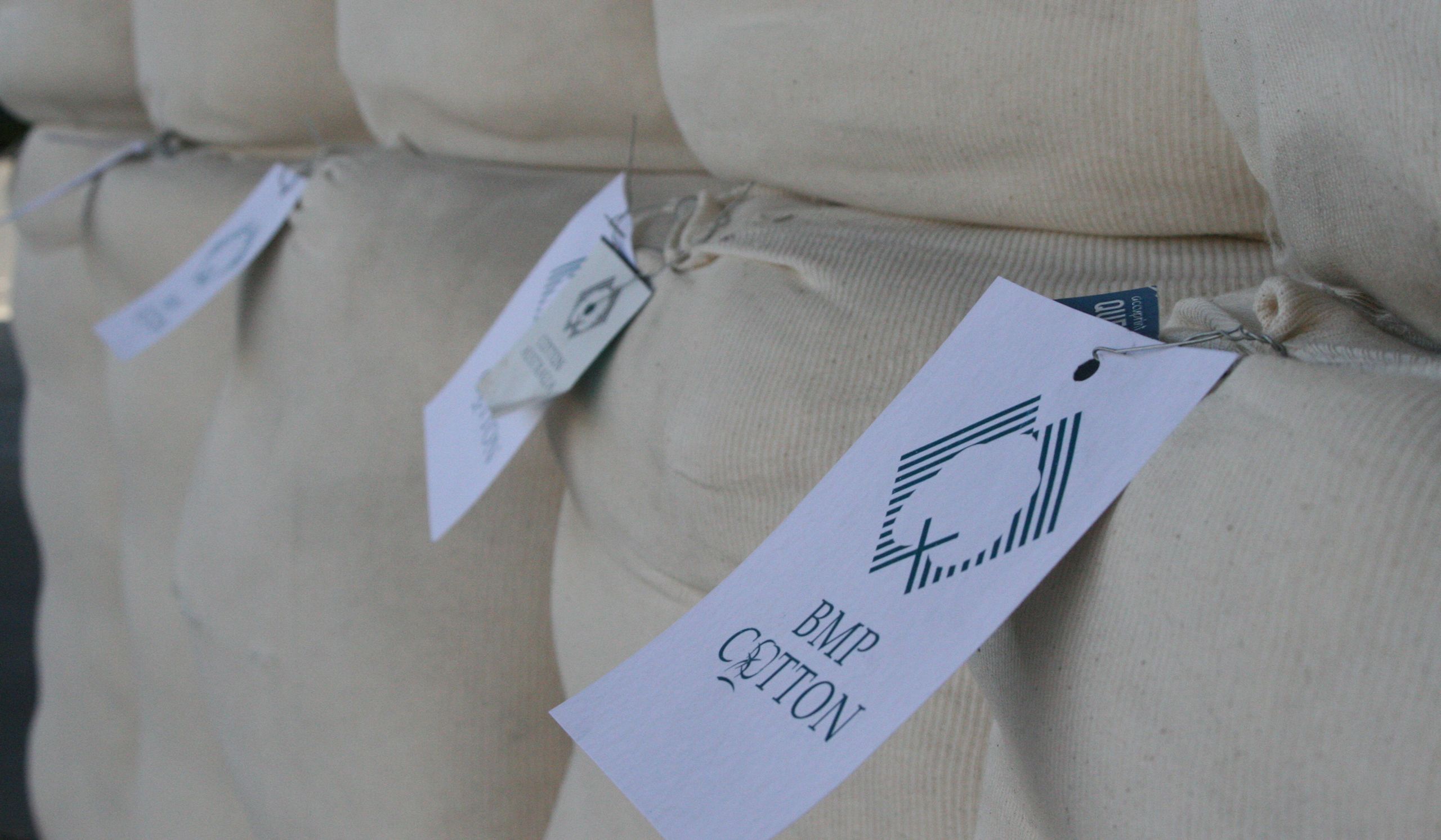 Scaling Up Supply
Providing training and support to smallholder cotton farmers is central to BCI's mission. Today, 99% of licensed BCI Farmers are smallholders, farming on less than 20 hectares of land. However, to ensure ample supply of more sustainable cotton, BCI also engages large farms around the world, which have the capacity to produce large volumes of Better Cotton while making continuous improvements in their farming practices.
In the 2017-18 cotton season, 360 farms in the US produced more than 245,000 metric tonnes of Better Cotton lint – that's 5% of all US cotton production. The growth in the number of US farms participating in the BCI Programme is in direct response to the increase in BCI Retailer and Brand Members, many of whom are setting ambitious Better Cotton sourcing targets.
Farmers producing Better Cotton in the US are also utilising advanced technologies to implement sustainable practices. Some farmers are installing drip irrigation, which can significantly reduce irrigation water needs, while others use GPS-guided, precision-application technology to apply fertilisers to match soil types and precise fertility requirements.
"I've encouraged farmers to participate in BCI as a way to set goals for ongoing improvements and to meet growing expectations from brands, retailers and their customers – not just about where their cotton comes from, but how it's grown."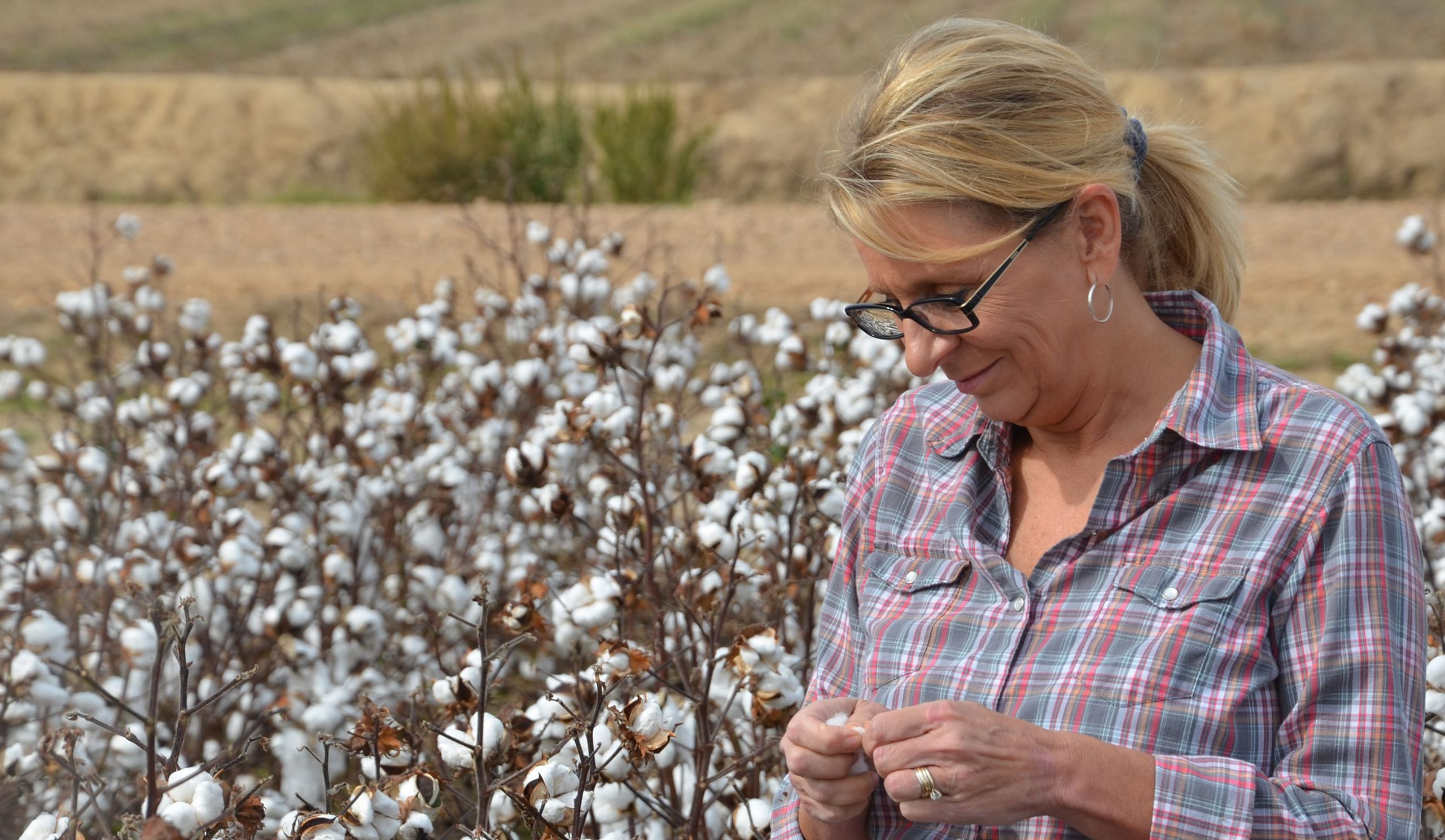 What Challenges Did We Overcome
Cotton producing countries face different challenges that vary according to multiple factors including geographical location, climate and environmental issues, political stability, legislation, education and poverty levels. With a strong understanding of local challenges, our on-the-ground partners — Implementing Partners — in each production country advise BCI Farmers on implementing the Better Cotton Standard's Principles and Criteria in a locally relevant way that responds to their specific challenges.
For example, in Mali, one of the first countries to grow Better Cotton, production of Better Cotton began again in the 2017-18 cotton season, after a pause in the 2016-17 cotton season. Growing conditions had become increasingly harsh, with rural communities lacking the means to farm effectively, particularly in terms of managing pests. High illiteracy rates also meant that farmers struggled to keep accurate records, which are essential to achieving a BCI licence. BCI worked closely with our Implementing Partner, the Compagnie Malienne Pour le Développement du Textile (CMDT), to identify and develop affordable, sustainable solutions. For example, farmers now wait until they identify a certain level of insect pests per cotton plant before spraying pesticides. As a result, in 2017-18 cotton season, the 14 Producer Units (organised groups of small or medium farms) in Mali submitted results, and one gained a BCI licence. CDMT has continued to support the remaining Producer Units on record-keeping and pest management, with most Producer Units in line to achieve BCI licences in the 2018-19 cotton season.
In the 2017-18 cotton season, the BCI Programme ended in Senegal, with our Implementing Partner Sodefitex, a dedicated partner since 2014, withdrawing from our partnership as cotton volumes became too low to enable sufficient investment in the BCI Programme. The country's cotton farmers had gradually moved away from growing cotton, turning their attention towards other crops such as rice, sorghum and peanuts. Although cotton production in Senegal continues to decline, Sodefitex and BCI will remain in close contact and seek future opportunities to renew the partnership, should cotton become the best crop choice for farmers' livelihoods.

Volumes of Better Cotton Grown
2010-18

What's Next
With Better Cotton now accounting for 19% of global cotton production, we are approaching a tipping point, whereby it can be considered a major player in the global cotton market. As more BCI Retailer and Brand Members source Better Cotton, we will be able to reach and support more cotton farmers, building momentum on our ambition to transform the sector, reduce its environmental impact and strengthen farmers' ability to improve their livelihoods. Ultimately, establishing more sustainable cotton as the norm will also strengthen the sector and help to achieve security of supply for the future.
Target Two:
By 2020, we aim to support 5 million cotton farmers to improve their livelihoods by adopting sustainable agricultural practices.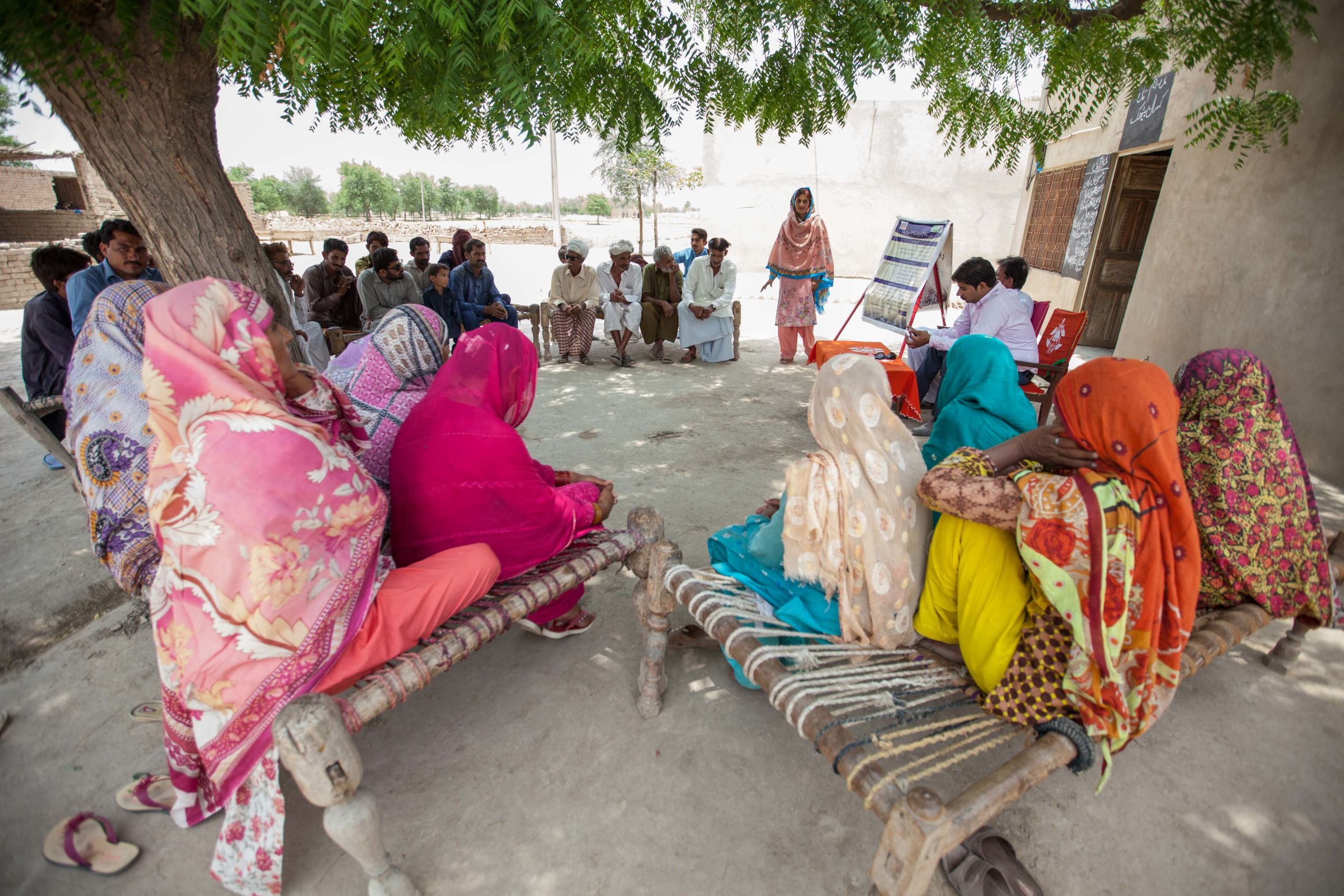 BCI Farmer Almas Parveen leading a BCI training session. Muzzarfargah, Pakistan
BCI Farmer Almas Parveen leading a BCI training session. Muzzarfargah, Pakistan
What Do We Want to Achieve
Transforming global cotton production starts with farmers. Supporting farmers sits at the core of BCI. By 2020, we aim to support 5 million cotton farmers in adopting more sustainable agricultural practices and improving their livelihoods. To do this, we focus on the diverse social, environmental and economic challenges faced by cotton farmers around the world, from drought in Australia to flooding in China and gender equality in Pakistan. Our comprehensive programme of training, practical demonstrations and knowledge-sharing helps farmers to raise their yields, reduce their impacts on the environment and improve working conditions. We address multiple environmental issues – from soil health and pesticide use to water stewardship – and raise awareness of the importance of Decent Work (defined by the International Labour Organization) as work that provides opportunities for people to work productively in conditions of freedom, equity, security and human dignity), focusing in particular on promoting women's empowerment and preventing child labour. The collective impact of all our efforts helps to strengthen local economies and promote sustainable development.
"I am a Field Facilitator, responsible for training 400 cotton farmers in Muzaffargarh [Pakistan] on more sustainable agricultural techniques. After participating in the training sessions, BCI Farmers are adopting new agricultural techniques which enable them to use water and pesticides more efficiently. Now, in our area, the younger generation are showing interest in agriculture, using the new techniques and technology."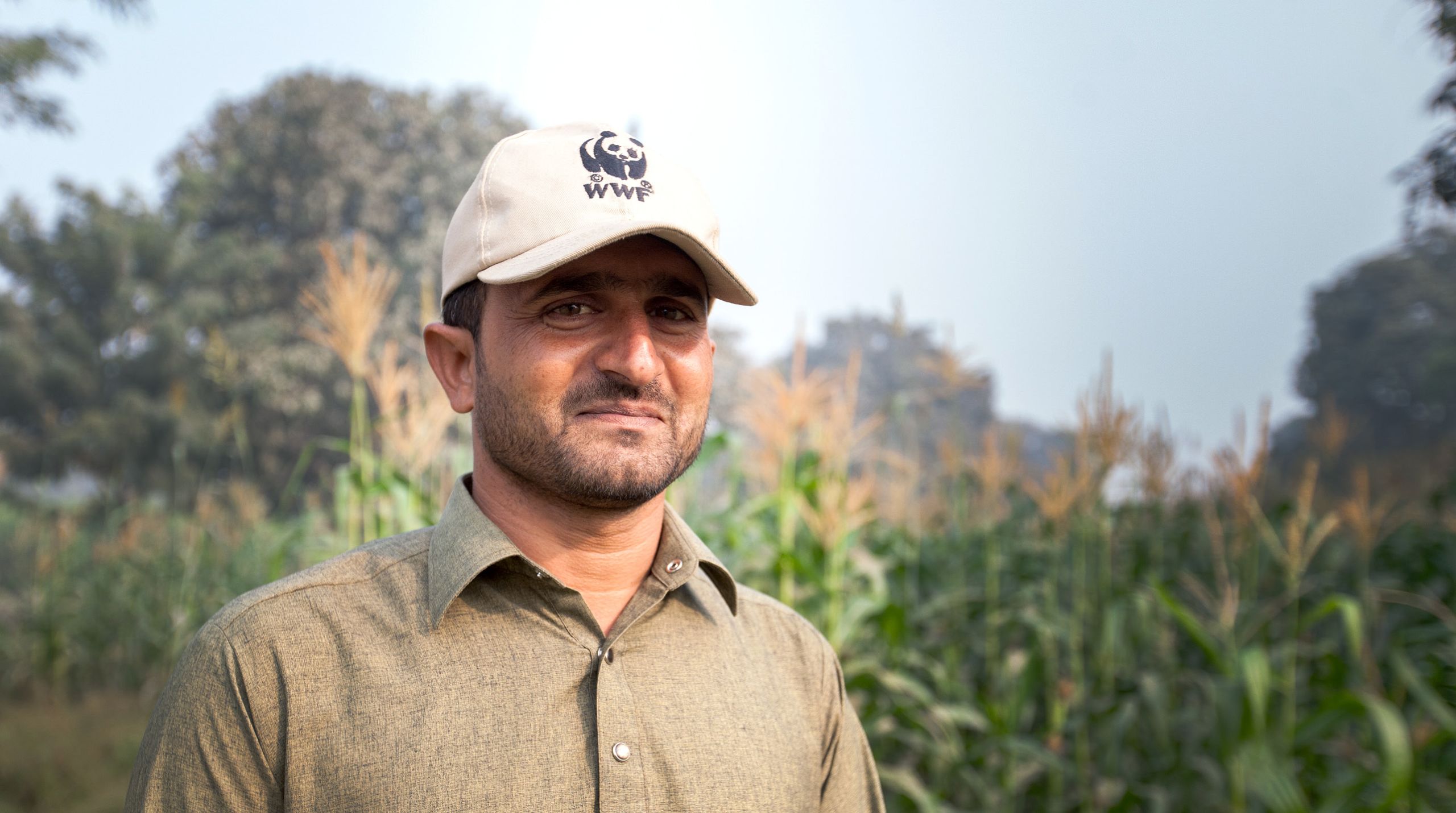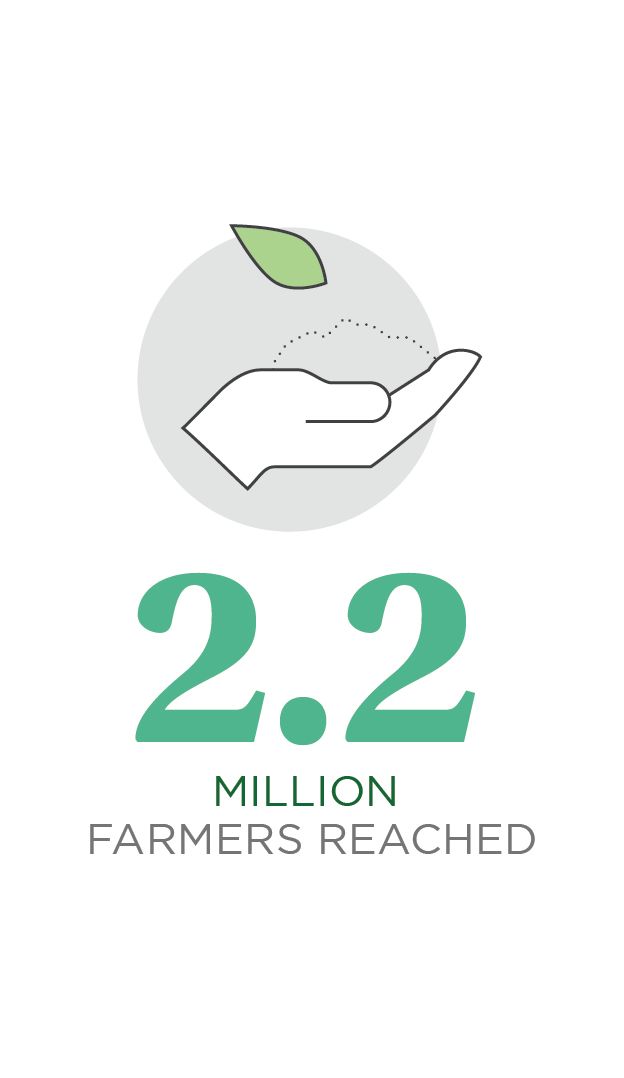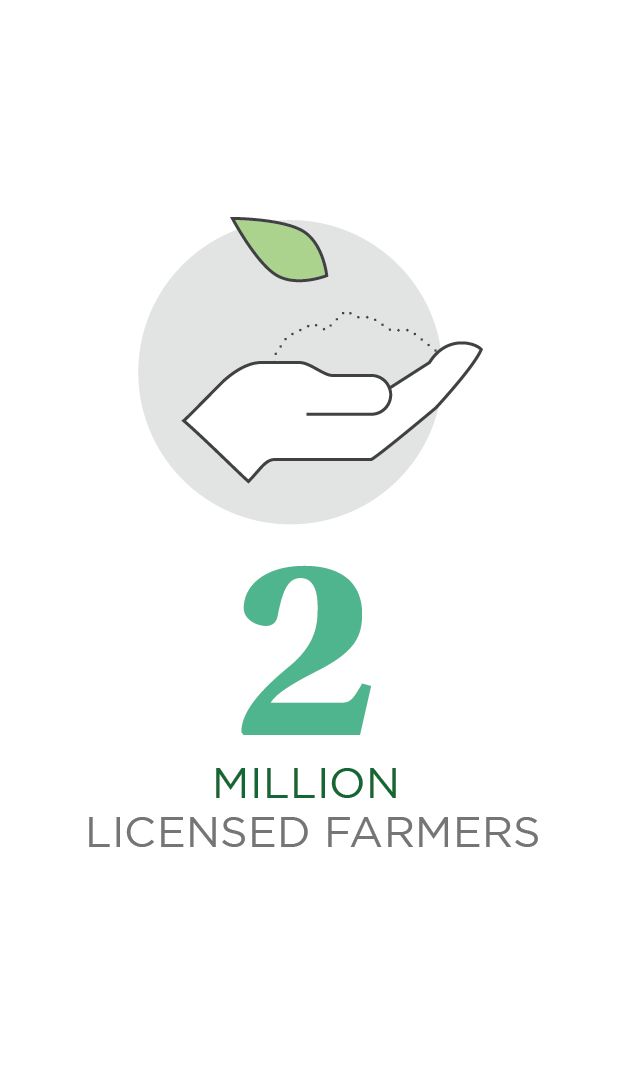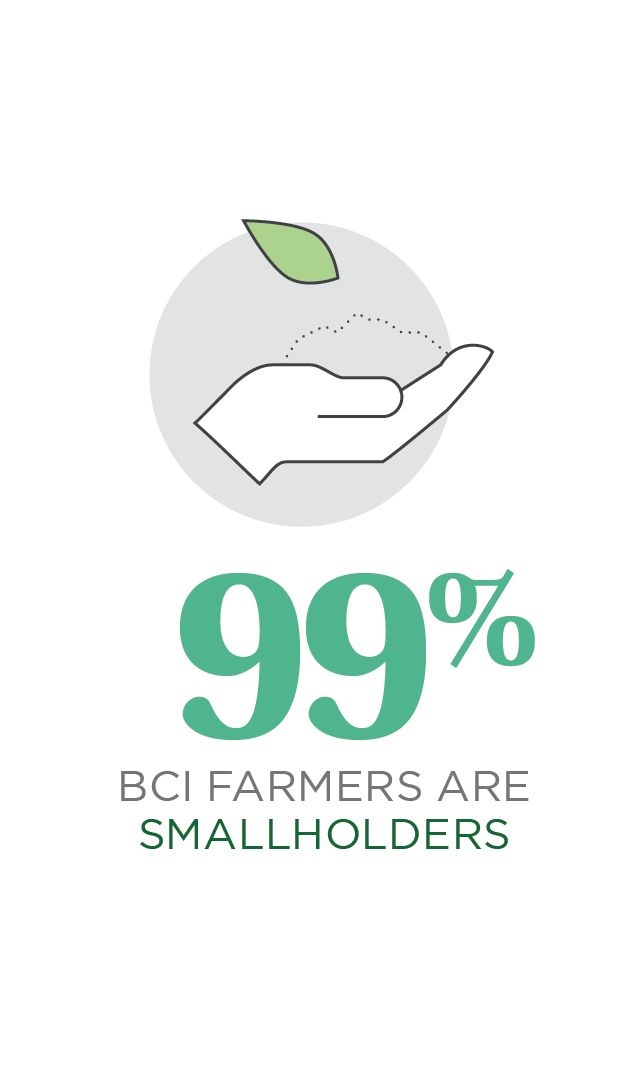 Where Are We Now
In the 2017-18 cotton season, the number of farmers participating in the BCI Programme grew substantially. Through our 69 on-the-ground partners – Implementing Partners – we reached and trained more than 2 million farmers.
In the 2017-18 cotton season, 2.2 million cotton farmers participated in the BCI Programme, receiving training on more sustainable agricultural practices. Participation nearly or at least doubled in Kazakhstan, Pakistan, Turkey and the USA.
The number of licensed BCI Farmers grew to 2 million, a 28% increase on the 2016-17 cotton season, with numbers of licensed farmers growing in almost all programme countries. For example, in Pakistan, licensed BCI Farmer numbers increased from 90,441 in the 2016-17 cotton season to 251,292 in the 2017-18 cotton season.
More than 99% of BCI Farmers are smallholders, farming on less than 20 hectares of land.
How We Reach Millions of Farmers
BCI works with Implementing Partners with local knowledge and expertise, and a strong understanding of farmers' challenges. Partners can be civil society organisations, NGOs, private sector entities, government agencies or foundations. They help cotton producers to develop the skills and knowledge to meet and continuously improve their performance against the Better Cotton Principles and Criteria. BCI invests in strengthening our partners' ability to deliver effective training, in order to provide the best possible support to farmers and help maximise positive change in the field. Together, we are steadily raising the quality of farmer training, helping to ensure consistency and quality across programme countries.

Licensed BCI Farmers
2010-18


BCI Farmers Around the World
2017-18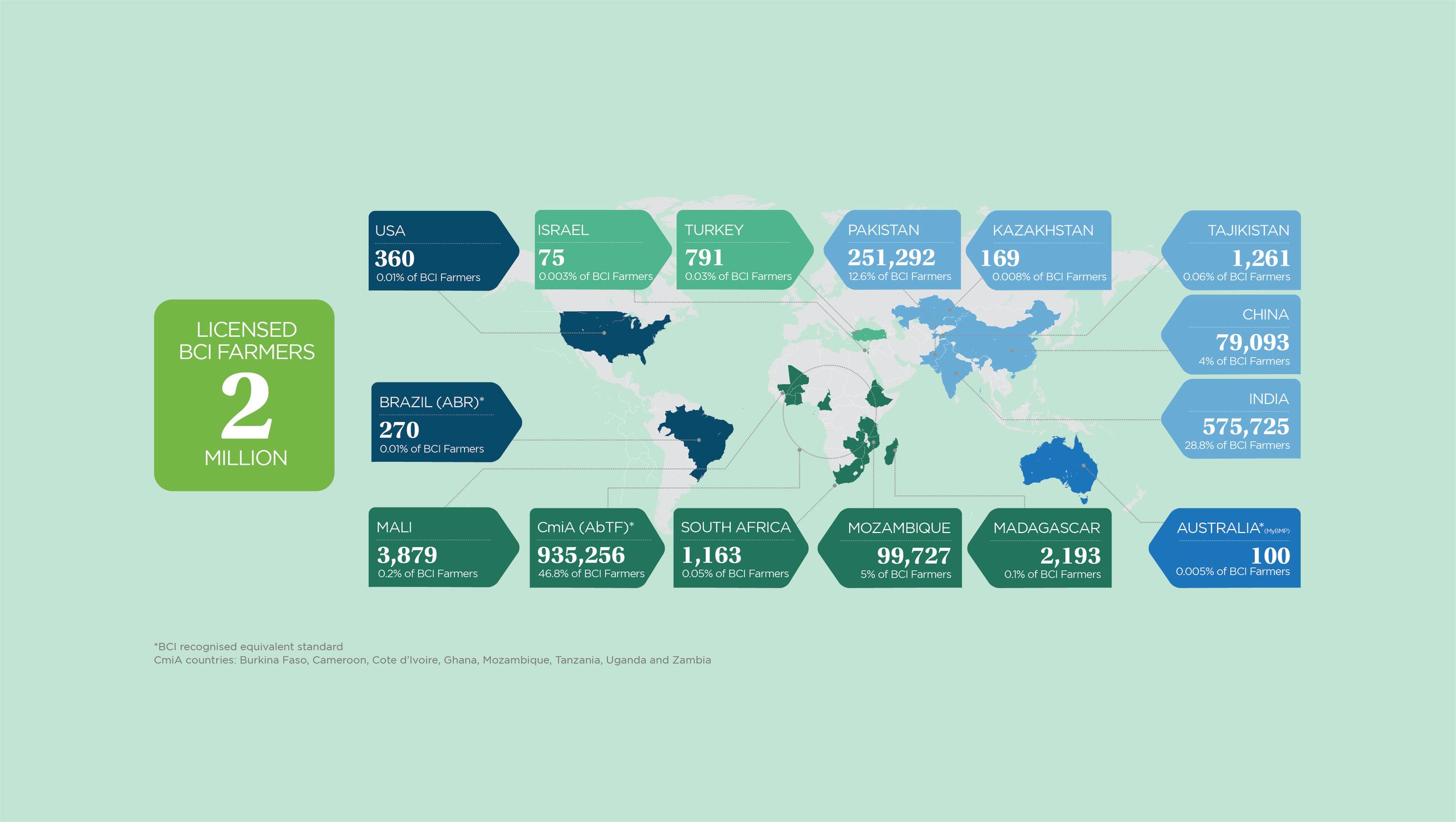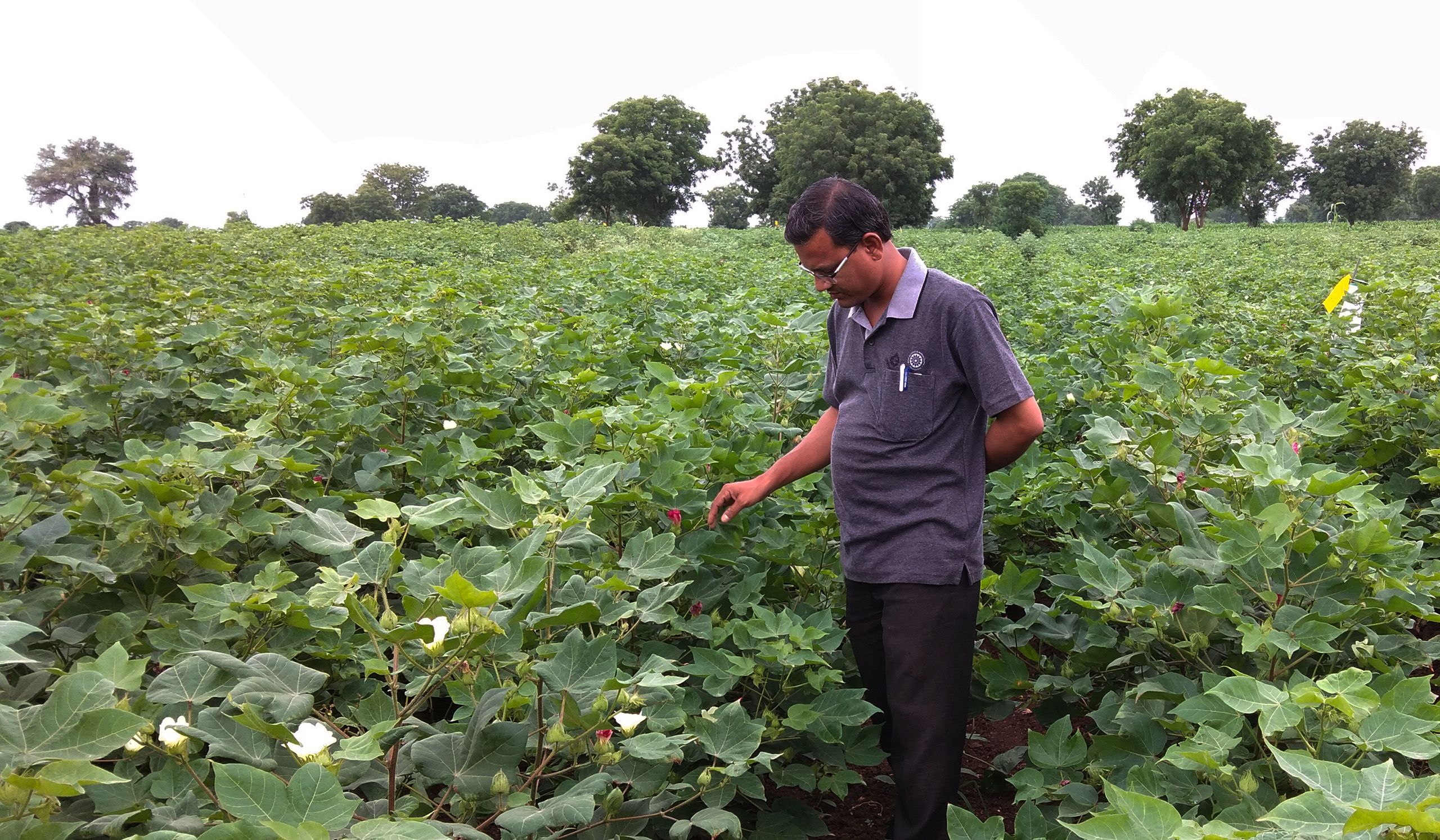 Where Did We Focus Our Efforts in 2017-18?
Gender Equality
Women play an important role in cotton production, particularly in sowing and harvesting, yet serious gender biases in key production countries often prevent them from participating in decision-making or taking on more senior roles. In 2018, with funding from the C&A Foundation, BCI commissioned consultants to help evolve BCI's strategic approach to promoting gender equality in cotton producing regions. The research will be concluded in 2019, with a view to establishing our strategy in late 2019.
"I want to make a difference, acting as a role model for female cotton farmers and encouraging women into cotton farming. I give talks to girls in schools, and in 2017 I helped to establish a new school in my village."
Children's Rights
Global children's rights organisation Terre des hommes Foundation (Tdh) partnered with BCI to help BCI Farmers address and prevent child labour and promote Decent Work in cotton farming. Together, we are aiming to better identify and mitigate risks of child labour in Better Cotton project areas. BCI and Tdh are currently looking at improving training materials, defining new result indicators and developing methods to better detect child labour during farm audits. Additionally, we are planning to launch a pilot project in India to support BCI's Implementing Partners in delivering child protection training to BCI Farmers, in line with BCI's Decent Work Principle. In the future, our efforts will also support farmers in Mali and Pakistan.
Water Stewardship and Responsible Land Use
With our partners, Helvetas, the Alliance for Water Stewardship and HCV Resource Network, we began water stewardship and land conservation pilot projects in the 2017-18 cotton season, helping farmers to move beyond national regulations in their efforts to conserve water, promote biodiversity and use land responsibly. We now help many BCI Farmers to understand water challenges in their local areas and collaborate with other water users to use water responsibly and conserve water quality. We're also ensuring farms of all sizes undertake a High Conservation Value (HCV) assessment (a field study involving the collection of field data, stakeholder consultations and analysis of existing information), prior to converting any land, such as forests, for cotton production.
In China, India, Mozambique, Pakistan and Tajikistan, we delivered training to Implementing Partners on safeguarding water resources and preserving water quality, as part of a broader capacity-building project planned for 2019. We also conducted trial water assessments and HCV risk assessments with BCI Farmers in Mozambique.
"We received a lot of useful information on mapping water resources and stakeholder collaboration that we'll use to create a holistic training plan and training modules that we'll be able to use directly with farmers."
Innovative Technology
We developed tools to help improve BCI Farmers' performance and monitor their progress. For example, we have developed an app for farmer capacity-building in China to help reach more farmers by providing information in real time via smartphones. We provided 162 BCI Farmers (supported by our Implementing Partner Nong Xi in Shandong Province) with smartphones and a further 155 farmers have made free use of the app, which also allows farmers to access BCI training videos and advice, and enables farmers and partners to exchange challenges, ideas and good practice. In the long-term, we aim to use this app to help measure farmers' progress and link farmers to trusted providers of tools, equipment and farming inputs.

Knowledge Sharing
In December 2018, we hosted our annual meeting for BCI Implementing Partners. Representatives of 45 organisations from 16 countries came together to engage in cross-country knowledge-sharing – discussing challenges, innovations and good practices in implementing the Better Cotton Standard. We focused in particular on Decent Work, including women's empowerment and child rights.
"BCI's spirit of collaboration is unique and provides a very good basis for practical implementation."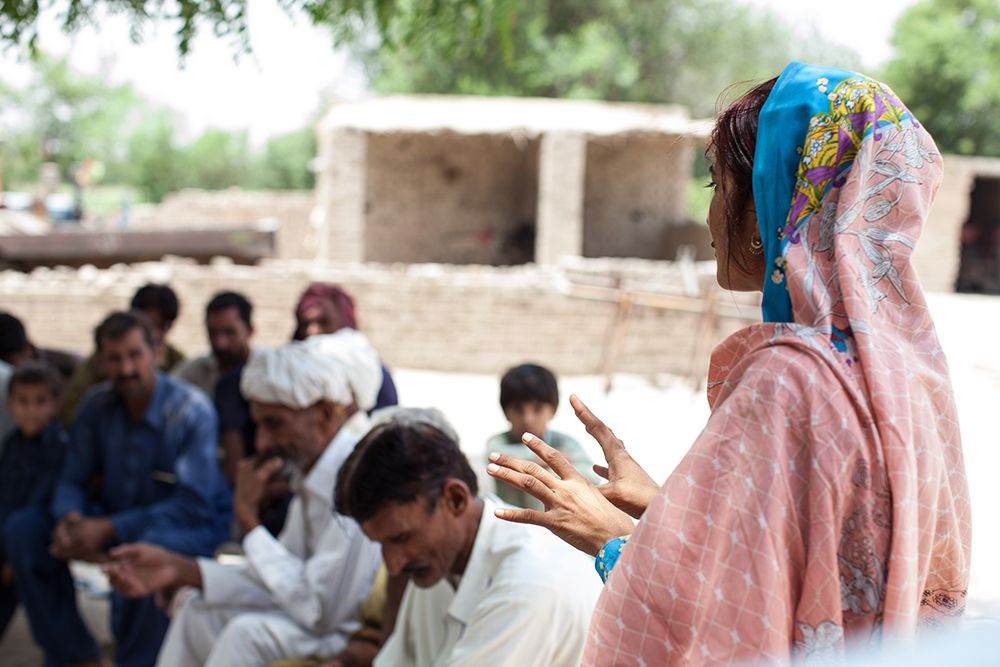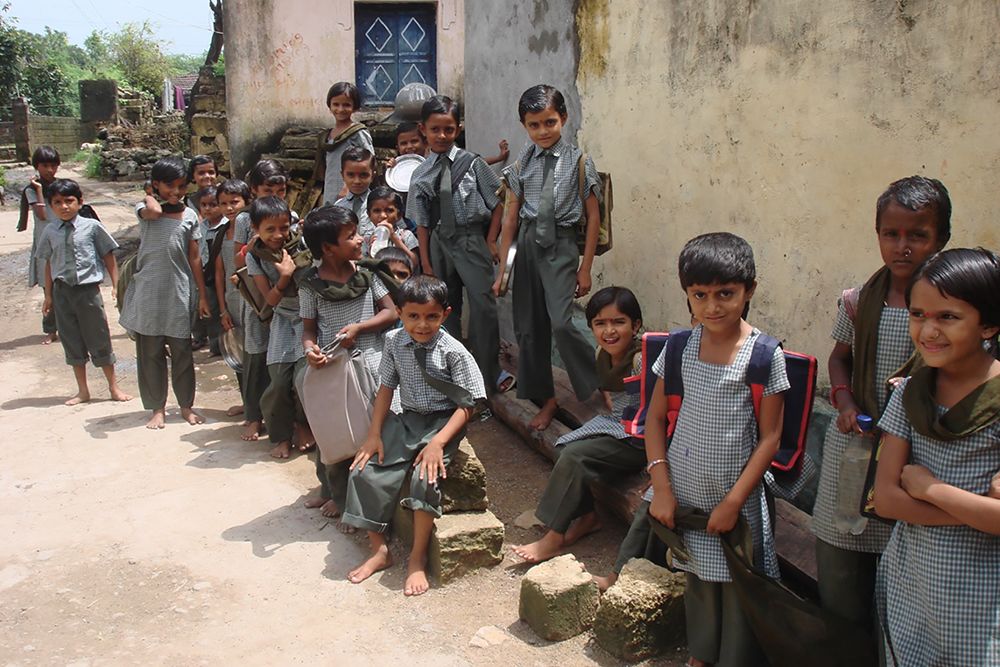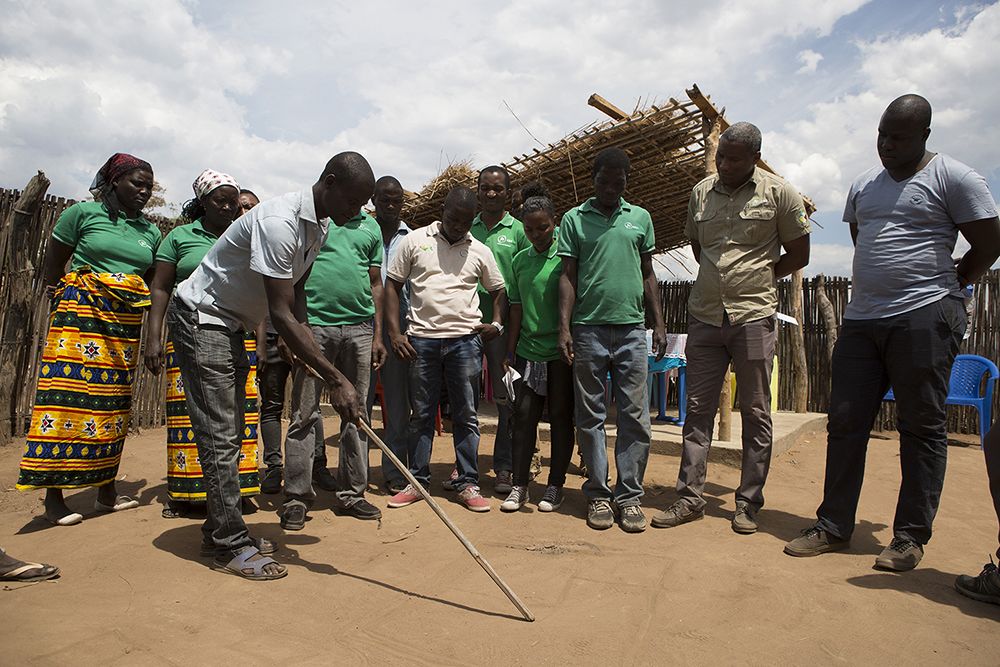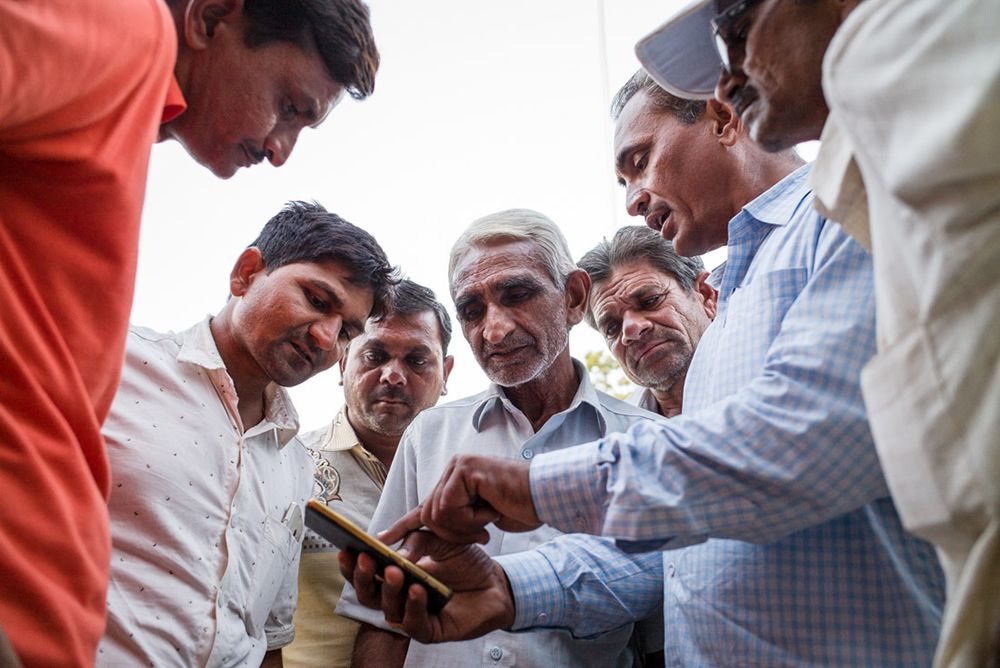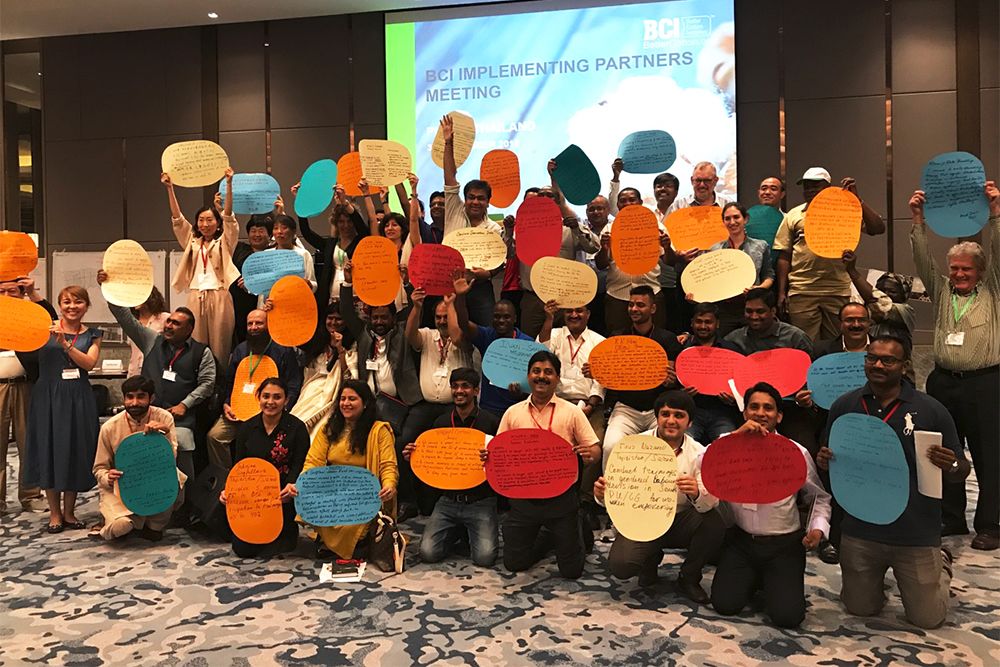 Measuring Impact
BCI also works with research organisations to help determine the latest best practices in sustainable agriculture. To help ensure that the Better Cotton Principles and Criteria make a real difference to farmers, we encourage and contribute to multiple research projects.
In 2018, we presented Copenhagen Business School research at the BCI 2018 Global Cotton Conference. The research provides insight into how BCI developed into the world's leading cotton sustainability standard. It examined the process of creating the global standard and BCI's unique and innovative position in the standards landscape. The research also explored the risks to maintaining programme quality and rigour during rapid scale-up. Through interviews with stakeholders, the researchers identified challenges BCI's implementing partners face in interpreting the global standard for local realities in India and Pakistan. The study raised pertinent questions related to project implementation and farmer outreach that BCI will continue to consider in order to ensure expansion does not come at the cost of impact.
We also directed funding towards a new measurement and reporting project – the Delta Project – in 2018. This is a three-year collaborative project involving ISEAL (the global membership association for credible sustainability standards), BCI, the Global Coffee Platform, the International Coffee Organisation and the International Cotton Advisory Committee's sustainability experts. It will help to bridge the gap in measuring and reporting the social, environmental and economic performance of agricultural crops for the benefit of everyone from farmers to brands and retailers. A common framework of sustainability indicators will be released in late 2021.
We came to the end of a three-year 'Demonstrating and Improving Poverty Impacts' project, which measured the early impacts of a Better Cotton project on smallholder cotton producers in Andhra Pradesh, India. The National Resources Institute of Greenwich University, UK, conducted baseline, interim monitoring and end-line studies between 2015 and 2018. The evaluation used a mixed methods approach including randomised control trial and extensive qualitative inquiry. It was funded by the Ford Foundation and commissioned by the ISEAL Alliance. Findings will be shared later in 2019.
What Challenges Did BCI Farmers Overcome
Across the world, BCI Farmers are growing cotton in challenging conditions, with climate change, extreme weather and pest outbreaks posing pressing risks. Many smallholders live in poverty, lacking access to the tools, equipment or knowledge to adopt more sustainable practices. Find out how BCI Implementing Partners are working with cotton farmers around the world to address these challenges.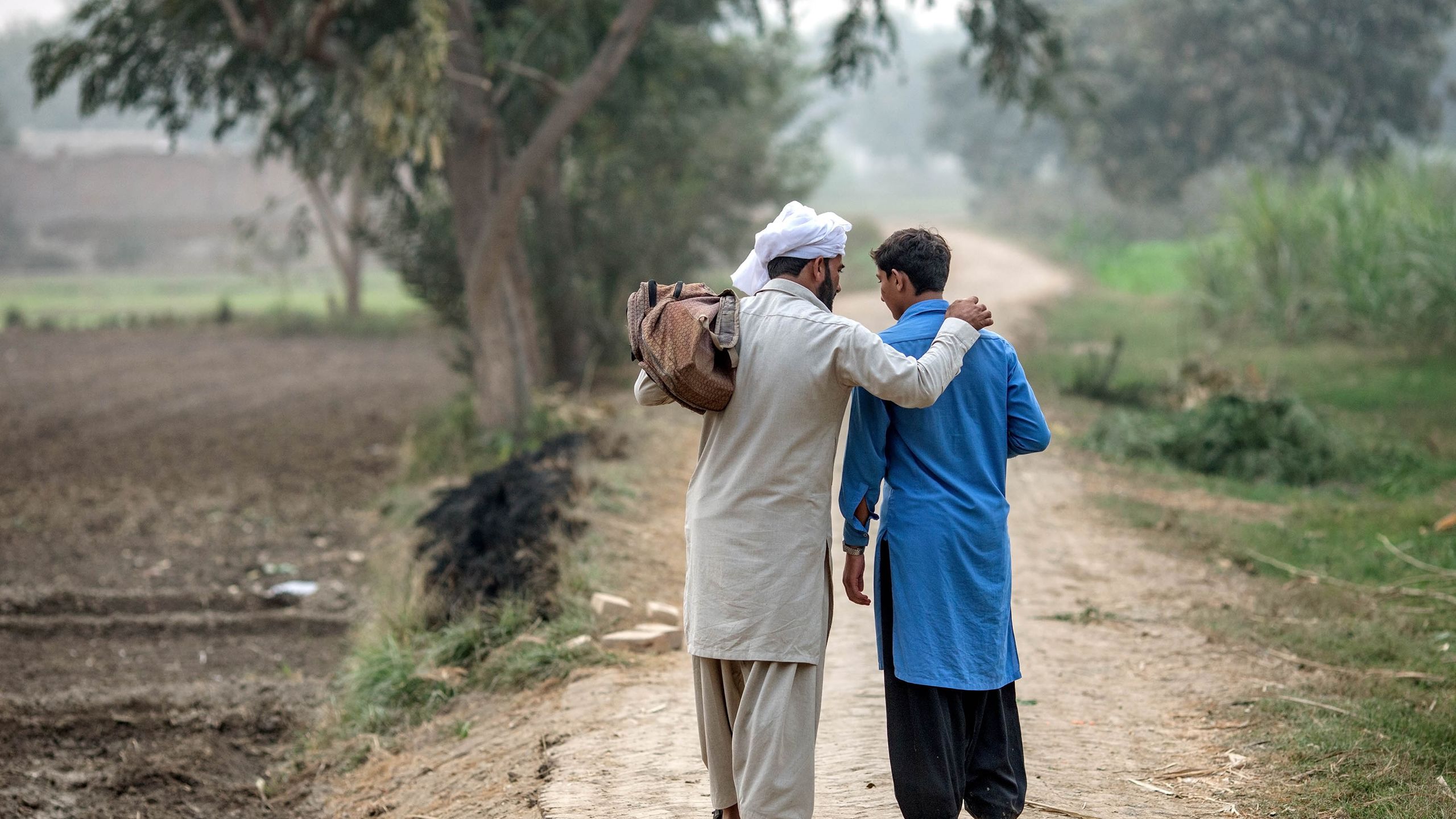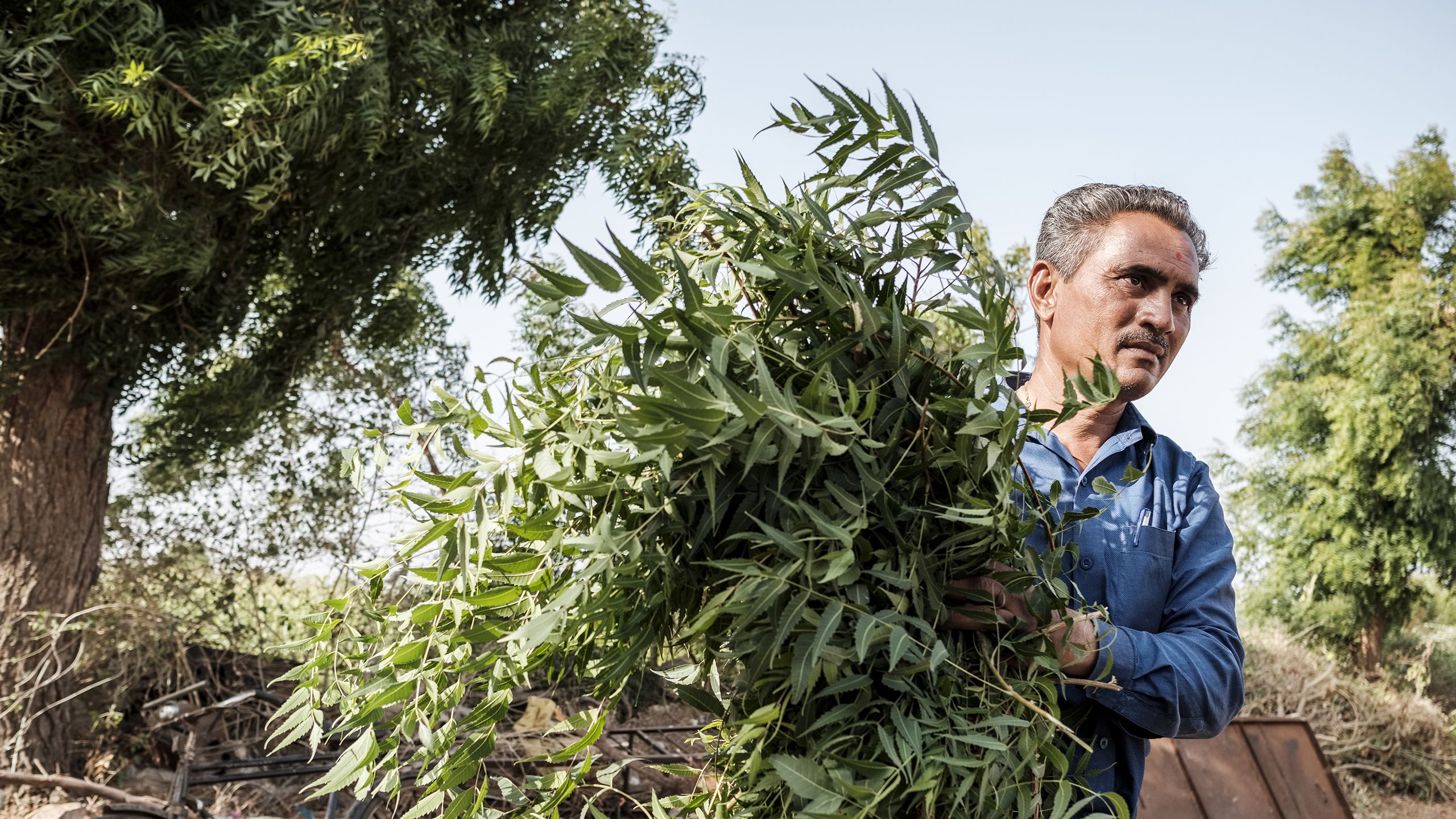 Better Cotton Growth and Innovation Fund: Key Figures
The Better Cotton Growth and Innovation Fund (Better Cotton GIF) makes strategic investments in Better Cotton projects to support BCI in reaching its 2020 targets. The Better Cotton GIF is governed by the BCI Council, in partnership with BCI Retailer and Brand Members, Civil Society Members and government bodies. IDH, The Sustainable Trade Initiative, is the official fund manager, as well as an important funder.
In the 2017-18 cotton season, the fund invested in Better Cotton projects in China, India, Pakistan, Senegal, Turkey, Tajikistan and Mozambique, working with 32 BCI Implementing Partners on 42 projects.
In the 2018-19 cotton season the Better Cotton GIF is forecast to invest €11 million from BCI Retailers and Brand Members, public donors, and IDH and mobilise an additional €3.4 million in co-funding from Implementing Partners and supply chain partners (social enterprises, ginners, spinning mills, and garment manufacturers), creating a total portfolio value of €14.4 million.
"We started our journey with BCI in 2009 to make a difference in sustainable cotton production. 2019 marks 10 years of our partnership with BCI. IDH, The Sustainable Trade Initiative, is proud and humbled to be a part of this shared effort through the Better Cotton Growth and Innovation Fund. Together with our partners and funders, we have achieved significant market transformation and meaningful field-level impact in the cotton sector."
Find out more at BetterCottonFund.Org
What's Next
Building on our training and knowledge-sharing efforts, we will continue to develop our approach to supporting Implementing Partners and promoting the adoption of good practices in order to meet evolving social and environmental challenges, and help BCI Farmers implement the Better Cotton Principles. We are currently collecting farmer results — information on BCI Farmers' progress on water, pesticide use and profitability as well as other indicators — for the 2017-18 cotton season, in comparison to farmers who are not participating in the BCI Programme. We will release these results later in 2019 on the BCI website.
Target Three:
By 2020, we aim for 10% of global cotton production to be sourced as Better Cotton