Towards Climate Resilience Series: China Case Study
Helping BCI Farmers in China Conserve Water and Raise Yields Despite Extreme Weather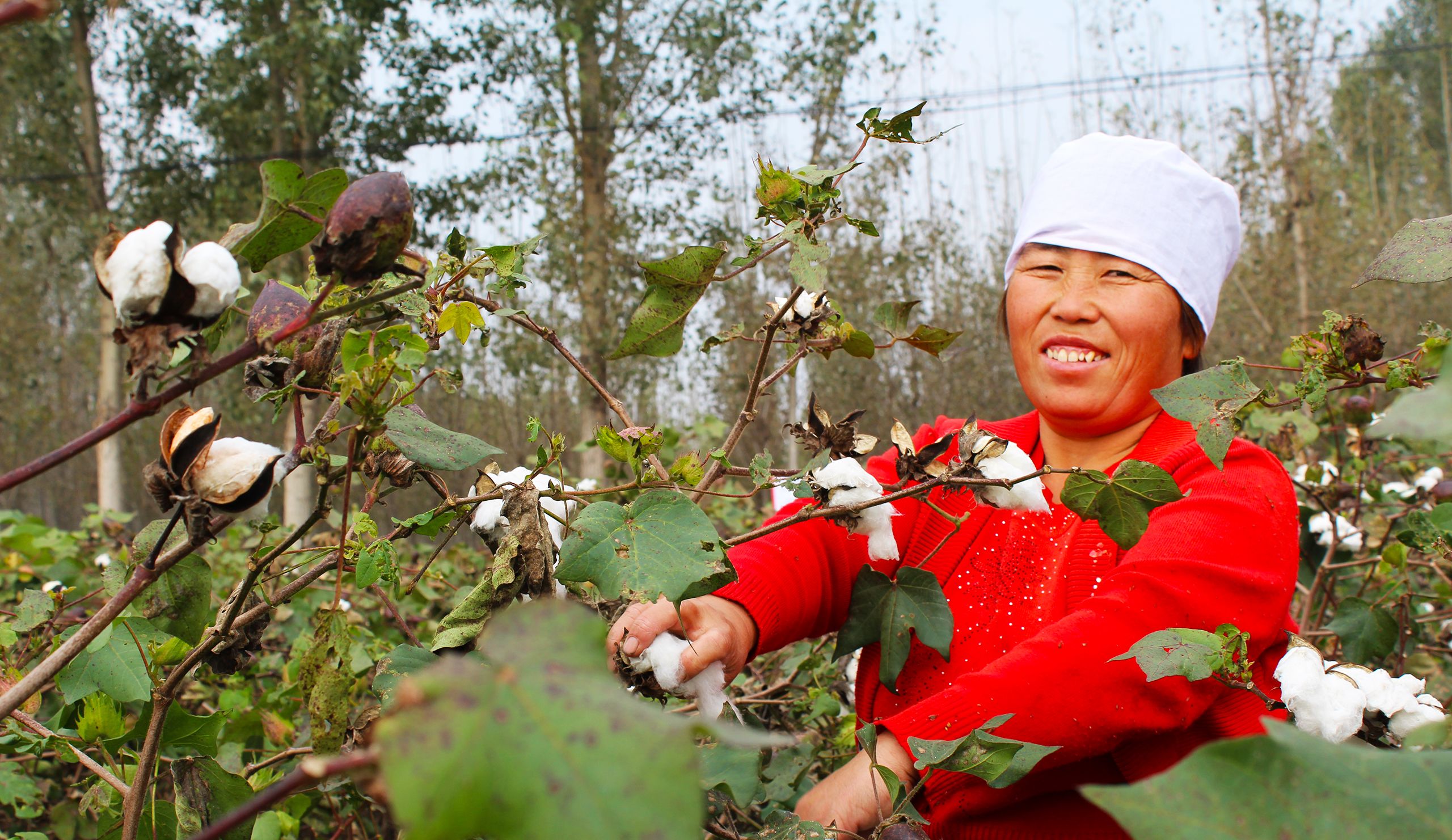 BCI Farmer Wang Xinjing, 2019. © CottonConnect
BCI Farmer Wang Xinjing, 2019. © CottonConnect
The Climate Challenge
As part of our commitment to supporting the UN's Sustainable Development Goal 13 on Climate Action, the Better Cotton Initiative (BCI) supports more than 50,000 farmers across China in adapting to extreme weather. Several components of BCI's holistic approach to training cotton farmers on environmentally, economically and socially sustainable cotton production focus on strengthening farmers' ability to increase their yields and profits despite the changing climate.
Cotton farmers in China face many extreme weather challenges. Frequent strong winds and low temperatures in the major cotton growing region of Xinjiang in Northwest China can damage or destroy seedlings, prompting the re-sowing of land, often several times a season. BCI Farmers in Yuli County, for example, had to re-sow around 60,000 hectares of land two to three times in 2018, because of strong winds.
Heat waves, hail and flooding can also affect yields and fibre quality. In the Yellow River and Yangtze River basins, for example, heavy rain during sowing can wash away newly planted seeds or drown fully grown crops at harvest time.
Helping China's cotton farmers to become more resilient to climate change is vital to improving farmers' livelihoods and securing the industry's future. In particular, farmers in the arid province of Xinjiang — where cotton grows especially well — often rely on cotton for a living, making them more vulnerable to fluctuating yields linked to extreme weather. The Chinese government takes action to help protect the income of cotton farmers in Xinjiang by establishing a minimum cotton price. It also offers subsidies to help farmers purchase insurance to guard against potential financial losses due to extreme weather.
How BCI Farmers in China Are Learning to Adapt to Extreme Weather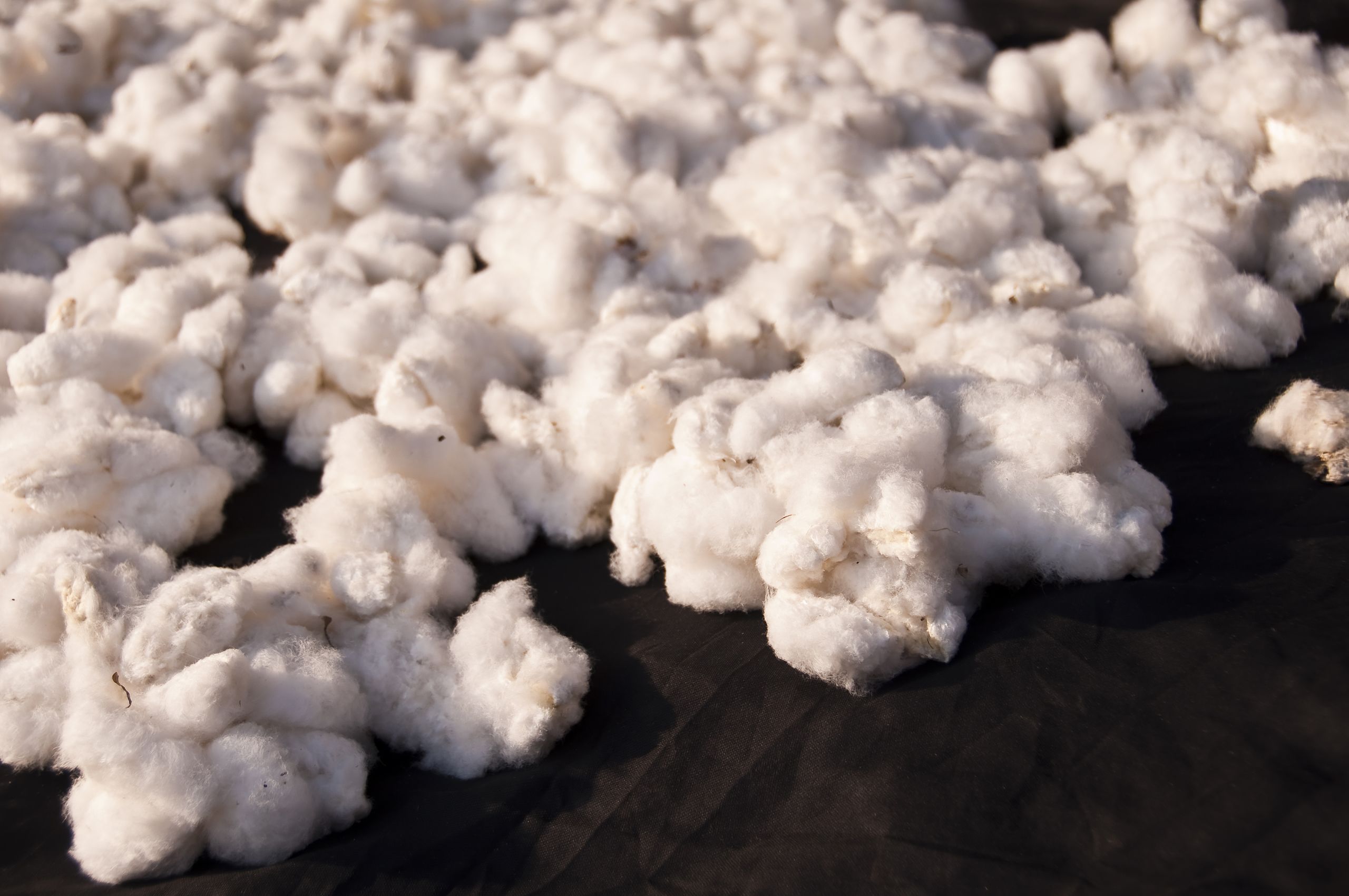 Conserving Water
With the support of our on-the-ground partners like CottonConnect, BCI Farmers in China are gradually starting to use specialist tools, such as soil moisture meters, to apply water to the soil exactly when it is needed, helping to maximise every drop. This is very important, as it helps to avoid the risk of plants maturing late in the season which can expose ripening cotton bolls to extreme weather linked to shifting seasons.
Large farms are taking this precision approach to the next level by investing in efficient irrigation technology. In the 2016-17 cotton season, BCI Farmers across China used 10% less water than farmers who didn't participate in BCI training sessions. In Xinjiang, where water scarcity is a growing challenge for cotton farming, some BCI Farmers are installing drip irrigation (which allows water to drip slowly to the roots of the plant, preventing evaporation from the surface of the soil). This can be particularly useful in times of extreme heat or when the plants are still young.
Taking Preventative Measures
To protect their crops from strong winds, particularly fragile seedlings, BCI Farmers are planting bushes and trees around their fields to provide shelter from the wind. They are also taking steps to help seedlings survive when temperatures drop by inter-tilling (preparing the soil in between rows by digging, stirring or overturning it) the field several times. This helps to increase the soil temperature and encourages healthy plants. When they experience heavy rain, BCI Farmers are starting to inter-till immediately after each rainfall, particularly if most of the cotton seedlings have already begun growing.
In Hebei, where it rains frequently in summer, BCI Farmer Wang Xinjing has learnt to protect her crops from heavy rain by planting fewer plants together (during outburst of heavy rain, cotton bolls can rot if there isn't adequate ventilation), applying fertilisers more precisely and draining her fields swiftly after the rain.
"Compared to other cotton farmers in the village who did not take these measures, my cotton fields were less affected by natural disasters."
Similarly, Qiu Aixiang, also in Hebei, sent mobile phone videos of the flooding in her village to BCI's on-the-ground partner CottonConnect, to seek help and advice.
"CottonConnect's agricultural experts advised us on when to replant our rain-soaked fields and on the measures we could take to avoid plant disease and promote healthy growth, in the face of intense rainfall. We were active in implementing their advice, and this has helped us to avoid crop losses."
BCI Farmer Qiu Aixiang. Hebei, 2019.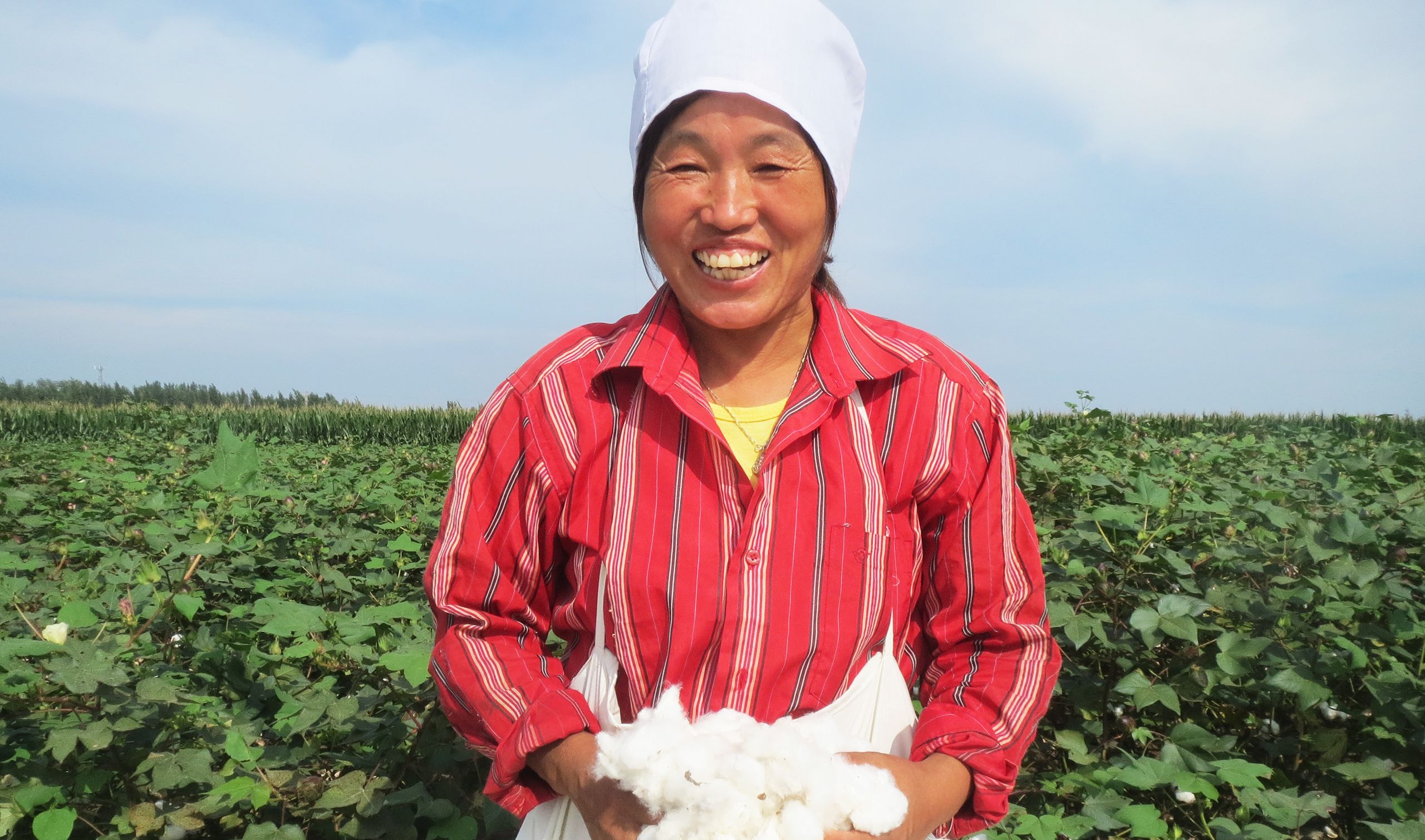 BCI Farmer Qiu Aixiang. Hebei, 2019. © CottonConnect
BCI Farmer Qiu Aixiang. Hebei, 2019. © CottonConnect
Meanwhile, in Xinjiang's Yuli County (where unlike Hebei, it seldom rains) Jiang Xiurong has learnt to protect her crops from strong winds by planting early maturing varieties of cotton and planting more plants closely together, as well as pruning, irrigating and fertilising crops in good time.
"I've improved my yields by taking these preventative measures."
As extreme weather takes hold, BCI Farmers are sowing seeds at different times of year in order to reduce the risk of exposing their crops to heat waves or early frost. Sowing cotton closely together is another good option following a natural disaster because it helps farmers to make the most of the remaining season.
To help encourage good soil health, some BCI Farmers are covering their fields in mulch (a layer of organic material laid on the top of the soil) towards the end of March and sowing the cotton seeds in early April. This is particularly important in areas with clay soil or very saline soil, which can make for tougher growing conditions.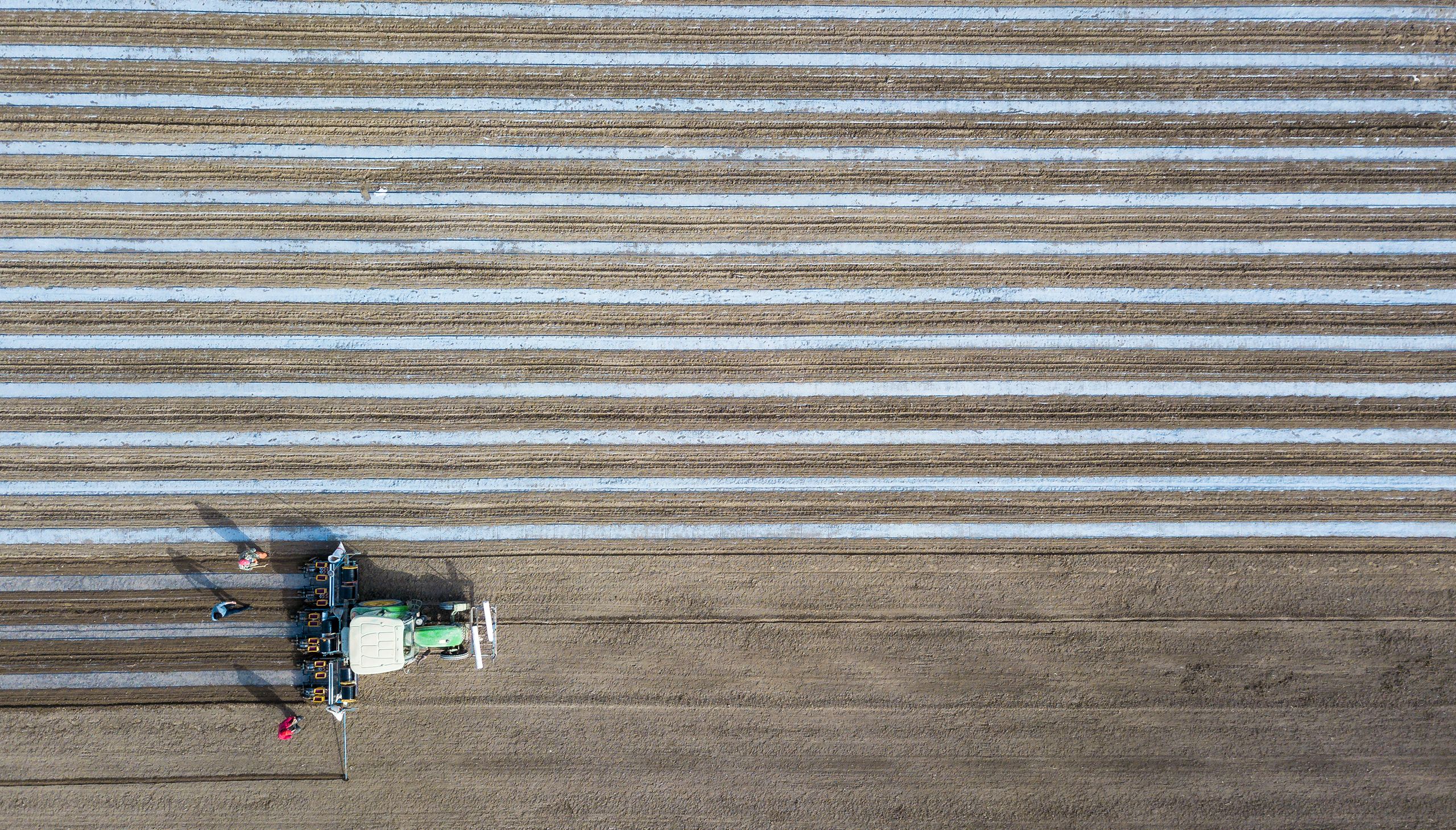 Aerial view of cotton farm, Xinjiang. © CottonConnect
Aerial view of cotton farm, Xinjiang. © CottonConnect
What's Next
Although BCI Farmers in China achieved 14% higher yields and 27% higher profits (than farmers who didn't participate in BCI training sessions) in the 2016-17 cotton season, there is still much to do to help BCI Farmers become more resilient to extreme weather. BCI and our on-the-ground partners in China are considering many different ways to help BCI Farmers grow cotton more efficiently and sustainably. This includes using more machinery and specialist equipment (where farmers are able to access it) to increase productivity and shorten the harvesting time, reducing the length of time during which BCI Farmers are exposed to risks of extreme weather.
"We believe that new techniques and technologies could help farmers to be more climate resilient. We're organising visits for BCI Lead Farmers [BCI Farmers who are designated to share knowledge with other farmers in their community] to go and see farms and agricultural companies who are applying new techniques or technologies. For many farmers, seeing is believing, and it's this firsthand experience that will help catalyse change."