Tackling
Water Shortages
in Tajikistan
One Better Cotton Farmer's Commitment to Trialling Innovative Water-Saving Practices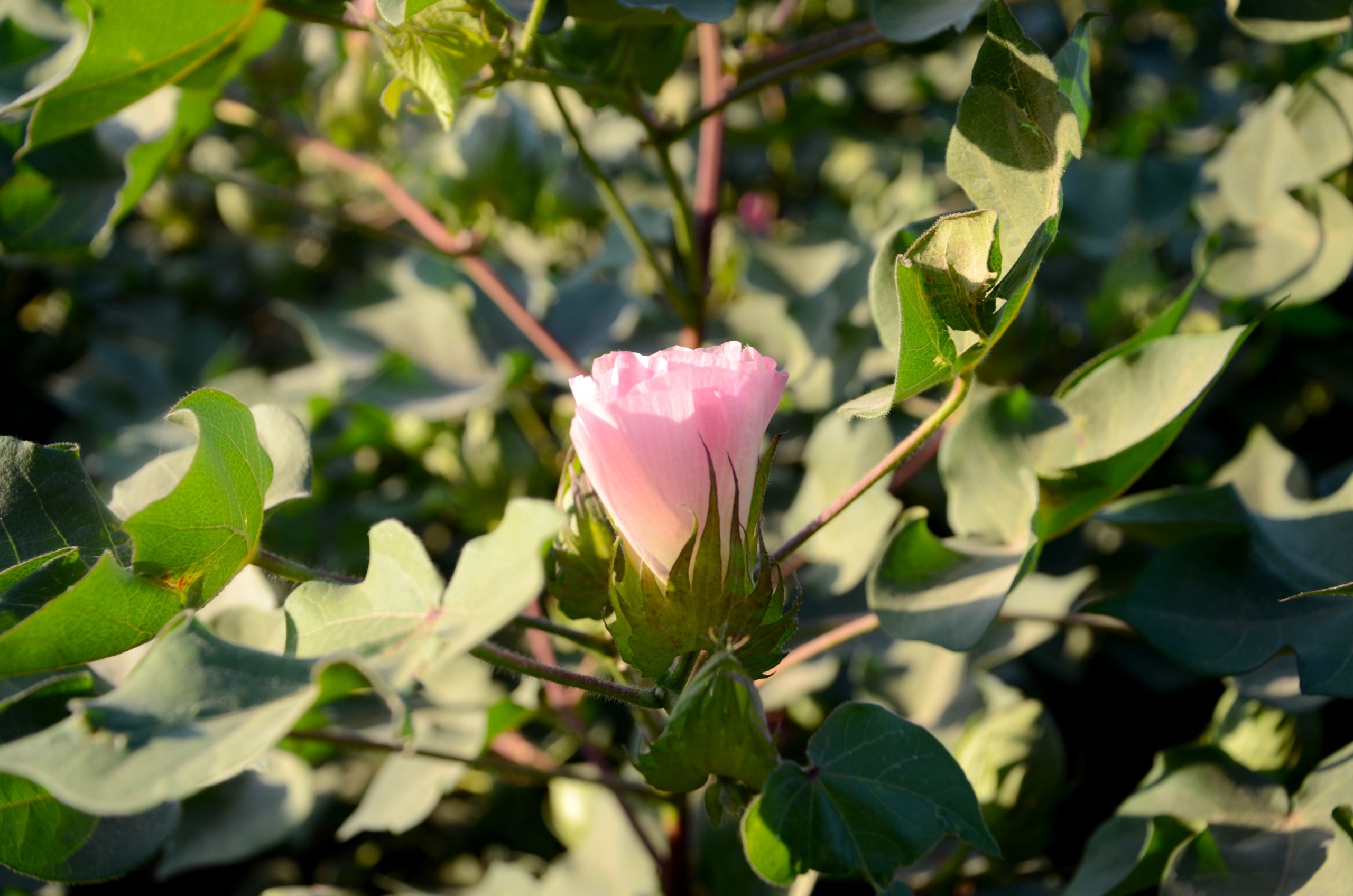 Cotton plant flower. All images: Better Cotton/Emma Upton
Cotton plant flower. All images: Better Cotton/Emma Upton
Surrounded by the dramatic mountains of northern Tajikistan, Better Cotton Farmer Sharipov Habibullo is hard at work in his cotton fields, demonstrating the latest water-efficient farming techniques to his neighbouring Better Cotton Farmers.
In Tajikistan, where temperatures commonly exceed 30 degrees celsius in summer, and more than 90 percent of agricultural land is irrigated (rather than rainfed), water scarcity is a major concern for farmers and communities alike.
Farmers typically rely on the country's old, inefficient water channels, canals and irrigation systems to water their fields and crops. As climate change brings more extreme heat to the region, it places additional pressure on already compromised water systems and supplies.
"Water scarcity prevents our crops from developing healthily, affecting our yields and our ability to provide for our families," says Sharipov as he addresses a group of neighbouring farmers who have gathered for a Better Cotton training session. "As the climate changes, the seasons are becoming more irregular. We no longer have the stability we need to ensure a good harvest, with just a small window to sow and harvest our crops."
63-year-old Sharipov is better placed than most to tackle farming challenges, with a degree in agricultural economics, 30 years' farming experience and his own ten-hectare farm where he has grown primarily cotton (along with onions, wheat and corn) since 2010.
Having witnessed first-hand the farming environment rapidly changing during his life, he knew he needed to take further action to secure the future of not only his cotton farm and his family's livelihood, but also his neighbouring farms and farmers who share the same limited resources and face the same challenges.
Sharipov delivers a training session on his farm in Khujand, Tajikistan.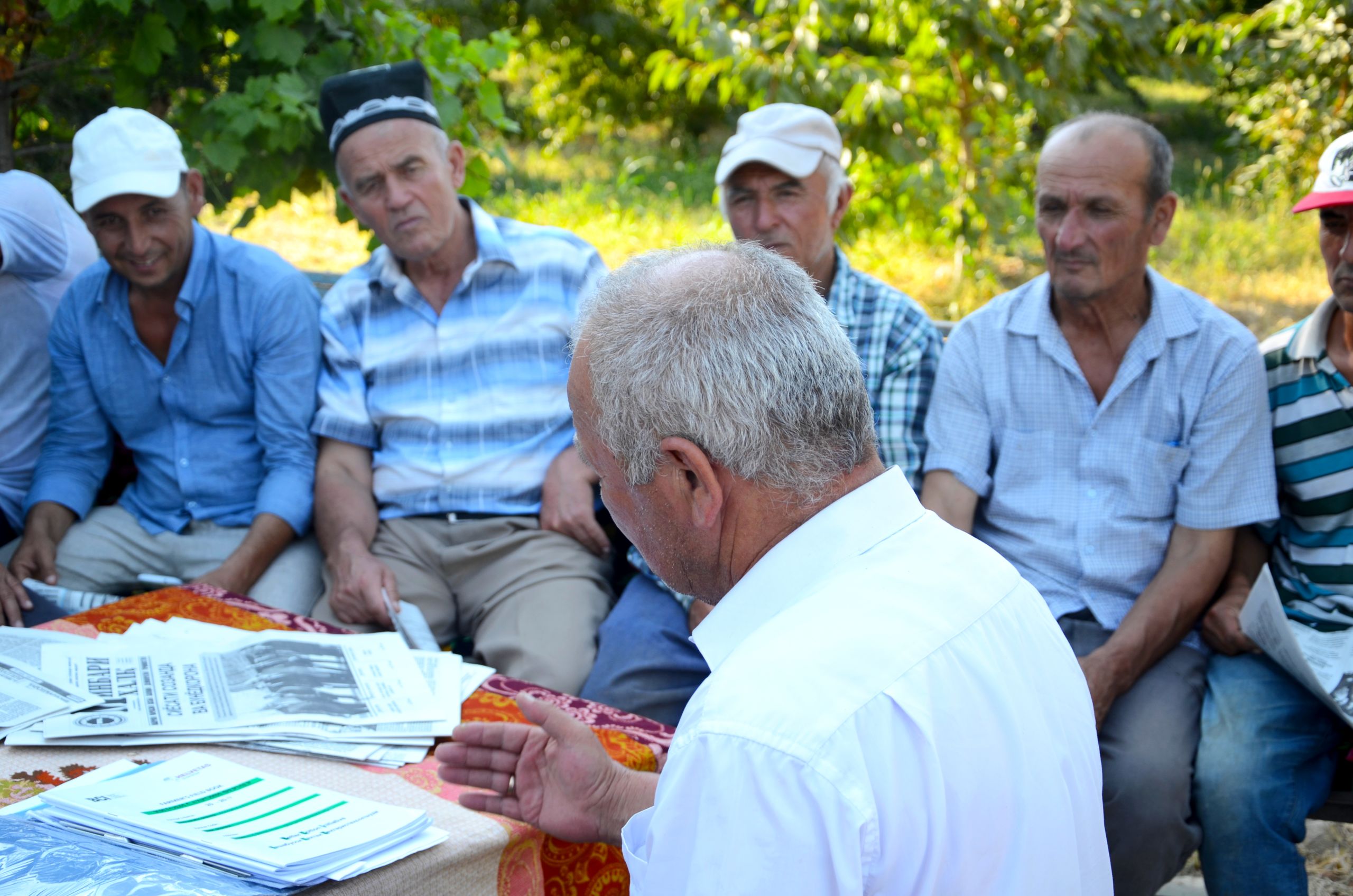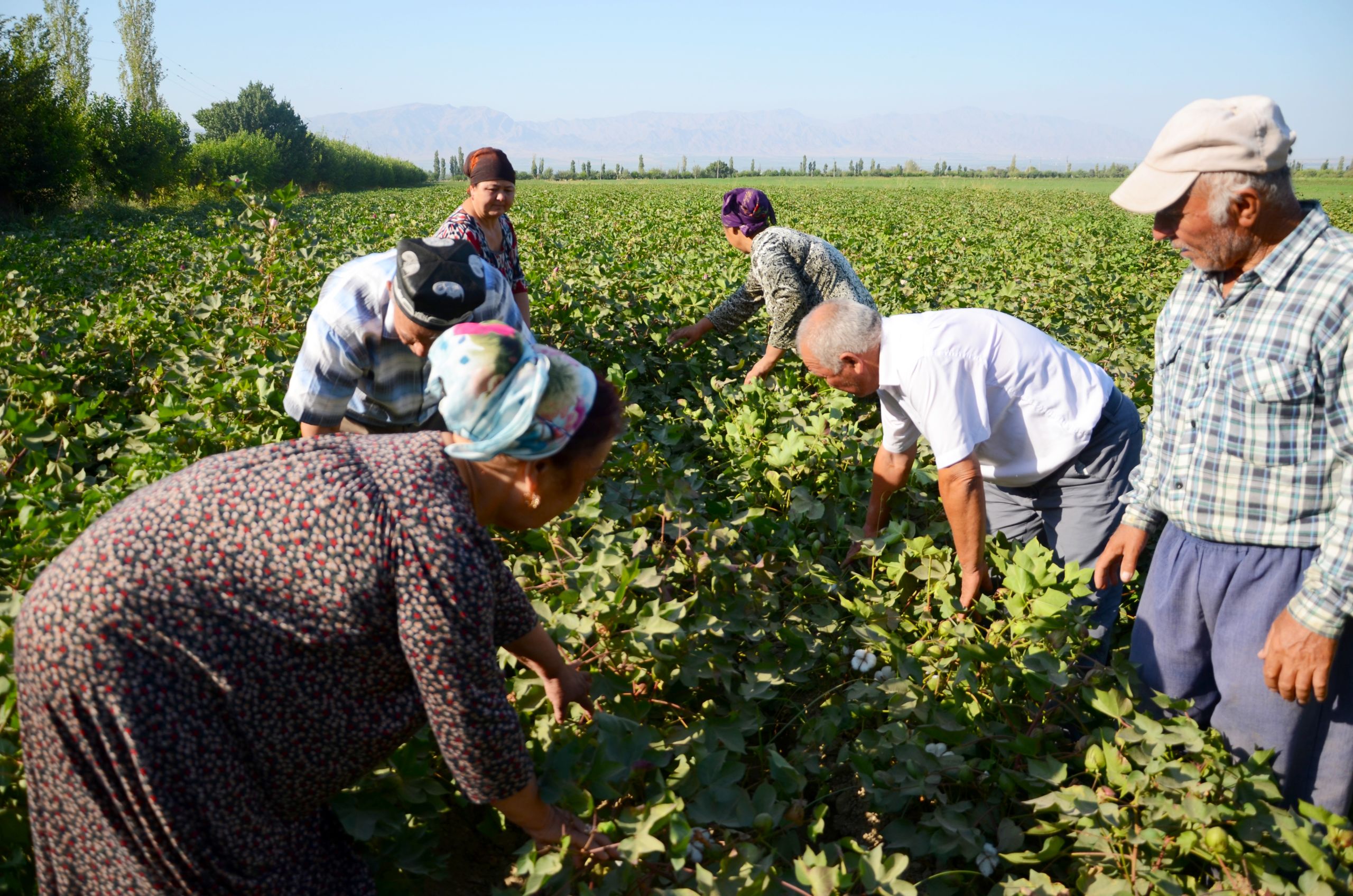 Fortuitously, in 2014, Sarob Consumer Cooperative (Sarob) became Better Cotton's Implementing Partner (an on-the-ground partner in charge of delivering the Better Cotton Programme) in Tajikistan and began working closely with cotton farmers in Sharipov's home town in Jabbor Rasulov District, Khujand, to develop and implement more sustainable, water-efficient farming practices. In the close-knit farming community, Sharipov quickly became aware of the organisation's activities and reached out to Sarob. He soon became a licensed Better Cotton Farmer himself, benefitting from regular training delivered by Sarob, with theoretical and practical sessions and best practice techniques demonstrated by agronomists and agricultural experts.
Sarob also partners with civil society organisations Helvetas and the Alliance for Water Stewardship to implement the WAPRO framework in Tajikistan. WAPRO is an initiative designed to improve water efficiency and productivity in agriculture. The framework champions water stewardship, a holistic approach which encourages communities to work together to identify and achieve common goals for sustainable water management and shared water security.
"The WAPRO framework helps farmers, communities and local authorities to map water resources and usage. It encourages collaboration to conserve water, preserve water quality (by protecting it from pesticides and fertilisers, for example), and share water resources fairly. This approach is embedded into the training we deliver to Better Cotton Farmers," explains Tahmina Sayfullaeva, Programme Manager, Sarob.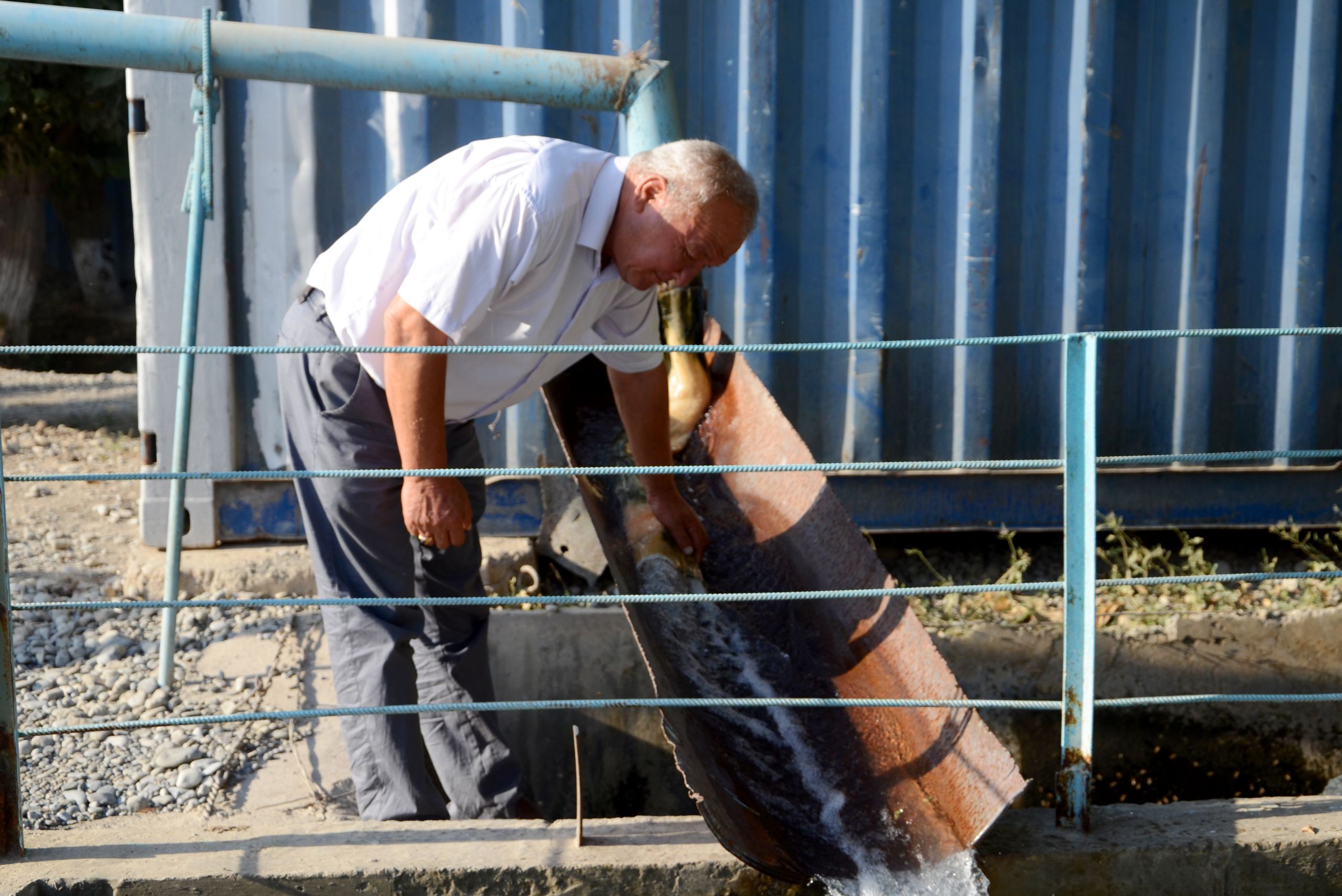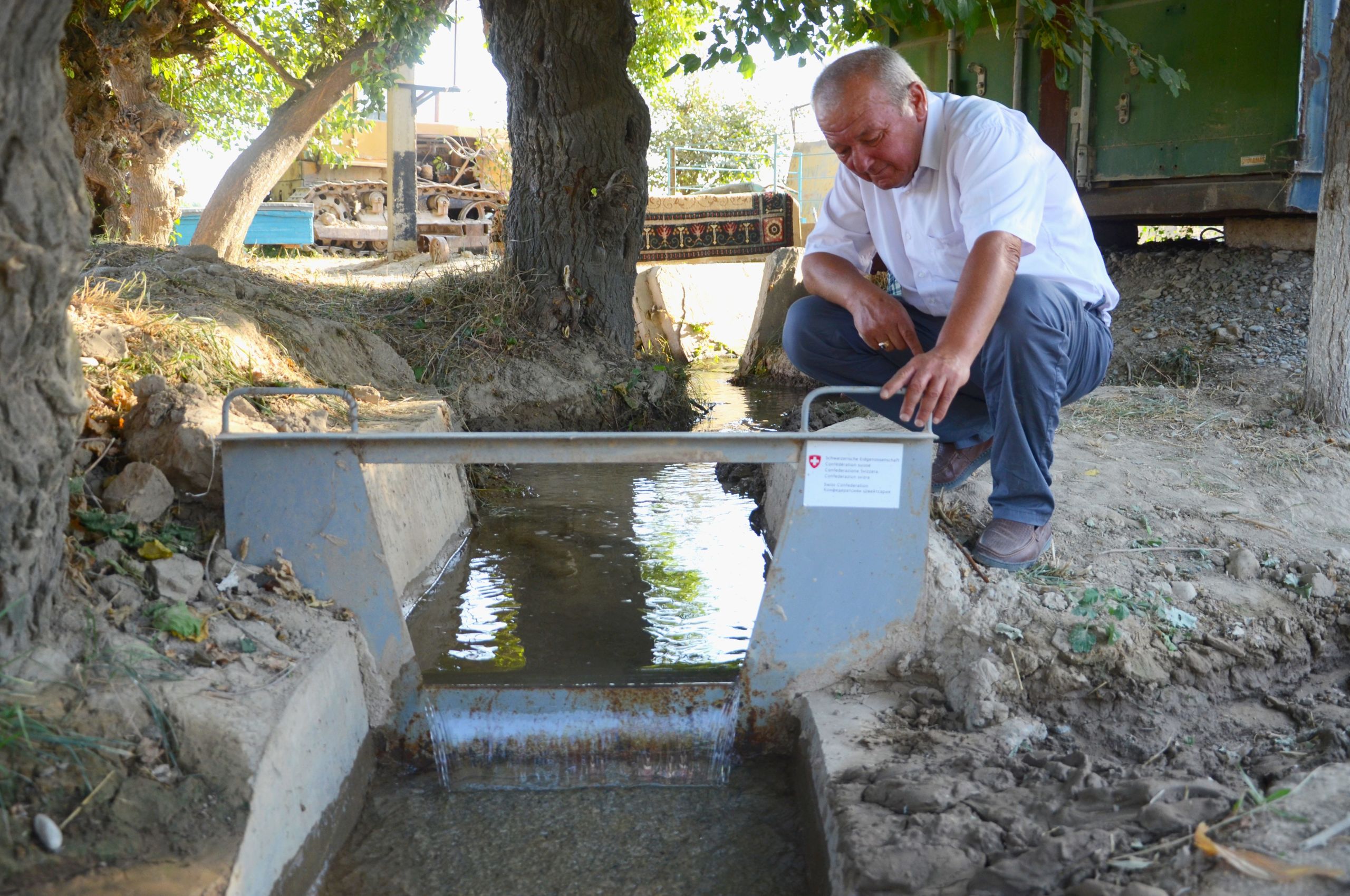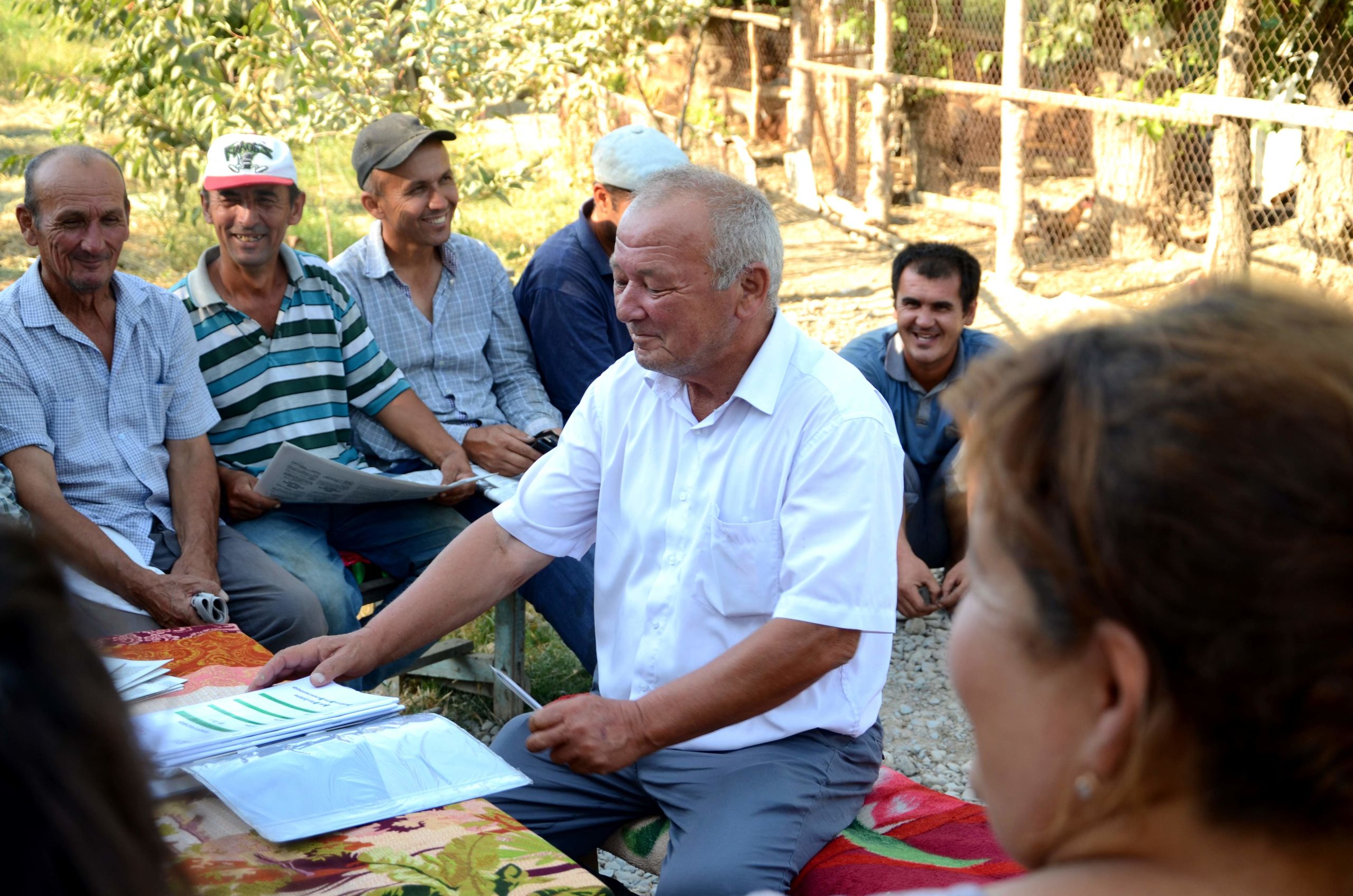 Just a year after becoming a licensed Better Cotton Farmer, Sarob invited Sharipov to become a Lead Better Cotton Farmer (someone responsible for supporting other Better Cotton Farmers in the community), and he now provides training on more sustainable farming practices, with a heavy focus on water stewardship, to Better Cotton Farmers on 11 nearby farms.
"Irrigation is a key focus of Sarob's training," says Sharipov. "I have learnt about best practice water-efficient techniques and technologies. I've also updated and refreshed my knowledge on promoting soil health and managing cotton pests effectively using natural methods such a light traps, both of which have an impact on how much water my soil needs. I am now keen to share my learnings with other Better Cotton Farmers."
In addition to travelling to neighbouring farms to give advice on water efficiency, support with soil moisture testing and monitor Better Cotton Farmers' progress, Sharipov also trials innovative, affordable techniques on his own farm. In particular, he collaborated with Sarob to partially fund and trial a system of tubular irrigation on two hectares of his farm. This is the first time this technique has ever been used in Tajikistan, marking a milestone in water stewardship practices.
Tubular irrigation involves laying tubes across the cotton field at set distances (approximately seven metres apart). The network of tubes is connected to a water supply. With the guidance of irrigation specialists, tiny holes are cut into the tubes to allow precise volumes of water to flow directly into shallow trenches dug into the cotton field between the rows of planted cotton. In this way, water is channelled to where it is needed most, and less water is lost through evaporation and run off.
The results have been impressive.
Before partnering with Sarob, Sharipov was using traditional furrow technology for irrigation (farmers flow water down small trenches running between their crops), and for one hectare of cotton, he used more than 10,000 cubic metres of water. In the 2017-2018 cotton season, Sharipov tested short furrow irrigation (where water flows at a faster pace and is evenly distributed, even in sandy soils) and for one hectare of cotton he used 7,182 cubic metres of water. In the 2018-2019 cotton season, in the same field, Sharipov, with the support of Sarob, upgraded his systems again and implemented the tubular irrigation technology.
As a result, at the end of the season he had used 5,333 cubic metres of water to produce one hectare of cotton, saving an additional 1.8 million litres of water (per hectare of cotton) in just one cotton season – that equates to roughly two-thirds of an Olympic swimming pool – and is half the volume of water he was using before partnering with Sarob.
"I want to help farmers with less experience combat water challenges by taking a precision irrigation approach, using water sparingly to grow healthy plants," Sharipov says. "Witnessing the results of new techniques on my farm helps them understand the benefits before committing to making changes on their own farms."
Sharipov checks the water supply on his farm.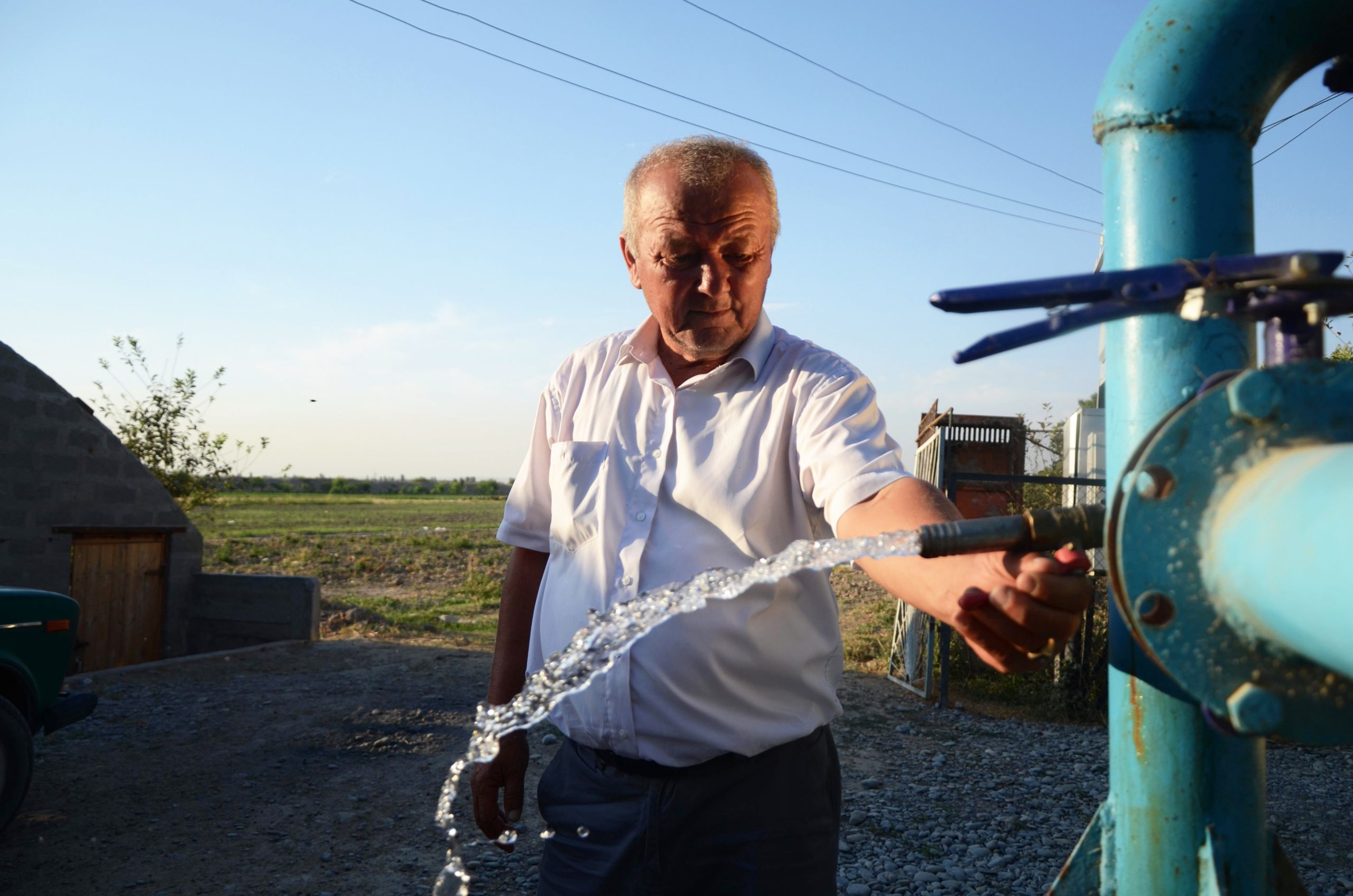 As he continues to help farmers in his community adopt sustainable practices, Sharipov also plans to expand his use of tubular irrigation across his entire farm. And as the threat of climate change becomes more urgent, he wants to keep attending Sarob training sessions on water-saving practices – learning and sharing knowledge on everything from new technologies to cotton varieties with shorter growing times or those able to survive with less water.
"Protecting our water means acting together. If all my neighbouring farmers take action too, we will start to see real significant water savings. I'm encouraged to see that other farmers are now interested in installing tubular irrigation, too. We should always strive to innovate and never stop learning how to improve the way we farm," concludes Sharipov.
Learn more about the outcomes Better Cotton Farmers in Tajikistan are experiencing by participating in the Better Cotton Programme in the latest Better Cotton Farmer Results.